Fit941's Health and Fitness Directory, Direct Fit, offers a highly-visible, cost-effective way to attract new customers. When readers are looking for a specific type of business, they can find it in Direct Fit. Ensure Fit941 readers can find you right here in Direct Fit.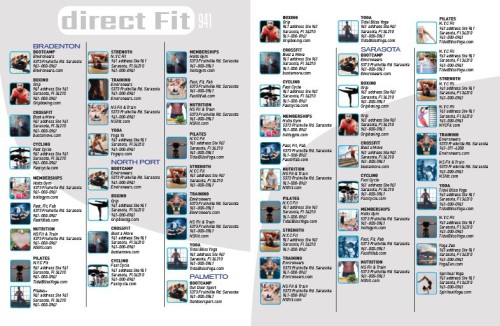 Listings submitted by the 15th of the month prior to print deadlines (December, February, April, June, August and October) will be placed in the upcoming issue. Submissions after the submission deadline will appear in the following print edition. To submit your listing, visit our home page at Fit941.com and click on the Direct Fit icon.
If you're a current display advertiser please contact us to obtain your 50% discount.
Our Health & Fitness Directory offers a highly visible way for you to attract new customers. Profiles and listings will appear in a special centerfold spread of the January/December edition of Fit 941 magazine providing you with maximum exposure.
If you're a current distribution point and would like to receive 25% off
br>
| 3 Issues One Payment | 3 Issues 6 Monthly Payments | 6 Issues One Payment | 6 Issues 12 Monthly Payments |
| --- | --- | --- | --- |
| $224.25 | $44.25 | $299.25 | $29.25 |
If you'd like to become a distribution point and receive 25% off
br>
| 3 Issues One Payment | 3 Issues 6 Monthly Payments | 6 Issues One Payment | 6 Issues 12 Monthly Payments |
| --- | --- | --- | --- |
| $224.25 | $44.25 | $299.25 | $29.25 |
If you do not want to be a distribution point
br>
| 3 Issues One Payment | 3 Issues 6 Monthly Payments | 6 Issues One Payment | 6 Issues 12 Monthly Payments |
| --- | --- | --- | --- |
| $299 | $59 | $399 | $39 |