OCR Season Is Coming. Are You Ready for Some Crazy Fun Fitness?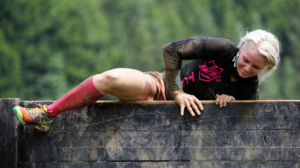 You don't have to be crazy to love Obstacle Course Racing (OCR). But it probably helps … You have to love a challenge. You have to love competition, and community.You have to love sore muscles and sweaty, muddy clothes. You have to love an incredible sense of accomplishment…
And you better be OK with being in amazing shape, and winning a medal, too! What's not to love?
The OCR season is fast upon us after the wintry holiday lull. There will be plenty of various distance events with physical challenges coming up in April, and lasting through November. (The sport attracted one million participants in 2011. That has grown to six million in 2016.) Whether you are an OCR veteran, a rookie or a wannabe, now is the time to prepare.
Dale Lively is the owner of Live Training Center in Palmetto, a local mecca for OCR folks. The facility is where area athletes get in shape for the TV show, "America Ninja Warrior." Dan is an accomplished competitor himself, but it is clear when talking with him that he enjoys helping others prepare for the races and spreading the "OCR gospel."
He said, "First-timers are welcome at our center, of course, and we realize that the true elite athletes make up just a small percentage of our members. We get a lot of weekend warriors who are curious about the competitions. They train, they compete, they find out how enticing it can be." Lively emphasizes the incredible sense of community that is part of every OCR event. "It's competitive, but people cheer each other on non-stop. When you're done, you have a lot of new friends with a common bond."
He suggests that newcomers do three things. First, get a good foundation of conditioning with equipment and exercising. Second, develop the grip strength, which is so important on the obstacle course. And third, since OCR races are 80 percent running, get comfortable with the distance of your particular race. He added, "If it's a three-mile event, focus on that distance in your road training. You don't want any surprises on the day of the event."
A veteran of 25 OCR races himself, Lively explained that it's not an expensive endeavor with regular running shoes and clothes acceptable for a first-time performer. "When you are ready to step things up, however," he said, "you might want to look at trail shoes on OCRGear.com, and consider shoes by Inov-8 or Reebok. He said a beginner can choose a local race (Mud Titan 9 or Mud Endeavor) and keep the registration cost under 50 bucks. He also suggested finding a training facility like LIVE where you can take OCR-specific classes for $15/class to best prepare on actual obstacles before encountering them in a race. On Feb. 5 Live Training will offer an OCR intro class to help orient newcomers.
Live Training is a co-sponsor of an upcoming OCR event in Plant City on Saturday, April 14—the "Mud Titan 9 Powered by LIVE Training Center." The four-mile course with 40 obstacles will come alive at 7 a.m. that day.
A week later Live Training and Crossfit have joined forces to create a new competition for this part of Florida—Juggernaut X. Limited to 100 competitors, this race combines high-intensity functional exercise, obstacle course racing, and ninja warrior training. Live Training in Palmetto will be the host facility on April 21, 2018.
A few other upcoming OCR events in the area include:
• Savage Florida on March 17
• Mud Endeavor Little Manatee on April 7
• Central Florida Tough Mudder on Oct. 13-14
• Spartan Race in Mulberry, Fla., on Dec. 8-9
High intensity interval training is very helpful when building up the endurance capabilities for this level of competition. And so is the functional movement exercise program offered at many area facilities, such as CrossFit, X30Fit Bootcamp and Scorch Fitness.
At Evo in Sarasota, they also train OCR competitors of all shapes, sizes and ages. Brenda Harrison of Evo explained that they get a lot of families who want to train for competitions as a team—with amazing experiences and results. "We didn't anticipate how popular our training programs would be with parents and their kids working out together."
She said the OCR training for all people needs to concentrate on grip strength and agility. "Your hands will get tired on those obstacles, so that is essential to success, but also as you get tired, your ability to balance can suffer, so we work on agility in our program."
The Evo training staff includes Aimee Boorman, the very successful 2016 U.S. Olympic gymnastics coach, who clearly knows her way around the weight room, running track, obstacle course, etc. She was recently honored as Co-Coach of the Year by the U.S. Olympic Committee. Along with a great facility and programs, Evo also has a pro shop if you need the latest active wear for your events.
Similarly, a couple of local stores have an impressive inventory of athletic wear designed to help you with obstacles, mud, water, cold air and walls. Endurance House in Bradenton and Environeers in Sarasota have beautiful, comfortable, innovative sportswear, just waiting for you to get as dirty as possible. So, calling all OCR veterans and newbies—the season is here. Where are you?