ME Time For Fitness Sake!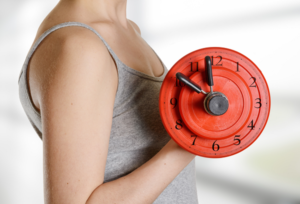 If you think about your year as a big apple, how much of it do you get to consume for your benefit, and how much do you give away to others? Between work, family, friends, volunteering and working out regularly, your apple bites may be getting smaller and smaller. Maybe it's time to be little more selfish and whole lot healthier.
The value of Me-Time in a personal schedule is not new, but its importance to mental health and physical health is gaining acceptance. Taking time to ensure your physical fitness goals on a regular, reliable basis means you will be strong and confident enough to get all those other-oriented tasks done throughout the week. And you will look and feel better, too. There is no perfect formula for everyone, and there are times when outside influences can impose themselves on the workout regimen, but the original goal needs to remain with time marked off on that calendar that is just for you, and your health.
Putting Your Plan into Action
It's a good idea to schedule Me-Time just like you would any real appointment, even if you have to sacrifice some early morning shut-eye to do it. You can reap benefits all day long, then get to bed a little earlier than usual. Or maybe a lunchtime workout may be best for your demanding schedule.
Chris Jaensch is an immigration attorney from Sarasota with a serious commitment to physical fitness. His demanding schedule requires some planning (and juggling) so that he can accomplish personal and professional goals. He said, "I schedule time to go the gym in my calendar and if a client wants to see me I say, 'Sorry, I already have a meeting outside the office at that time.'" He explained that if he doesn't do this, projects can pre-empt his workout and he might be too tired at the end of the day.
Setting aside "Me-Time" and not working an 18-hour day also has other benefits, according to Jaensch. "Going regularly to the gym, doing CrossFit, yoga and other fitness classes has allowed me to make connections outside of my usual circle and has brought me a number of new clients." He added, "You build up a trust with people you see all the time at the gym and they feel comfortable asking you for advice or referring you to their friends."
Balance is very important to Jaensch, who said, "I work with a lot of lawyers and business executives in high stress jobs. You can tell those who take time to be aware of their health and those who don't. As the stress builds, the amount of weight they carry on their body seems to go up over the years and they start to look like they are dragged down by the pressure." He said a friend in accounting left his high stress job and focused on fitness for a year, and within months he looked 10 years younger.
And remember not to feel guilty about your Me-Time. Life coach Ursula Jorch wrote for Love Bold &Bloom, that the most productive people on earth "regularly spend time doing everything but working. They take time off. They pause during the day to rejuvenate because alone time actually increases your productivity. When you are alone you can focus more effectively and concentrate fully. You actually get more done."
Single Mom Speaks Out
Rebecka Guilfoyle is a 30-something single mom who works full-time as a realtor for Premier Plus Realty in Sarasota. She loves her family and her work, plus photography, but she also takes time each week for personal growth, especially an hour-long Cross-Fit workout or power lifting with barbells. She said, "A lot depends on my two sons' schedules for school and activities, so I end up going early to a 5 a.m. or 6 a.m. workout, but it's a great start to my day." She added, "December was a surprisingly good workout month because I made it a priority."
And don't feel bad about telling your inner circle—family, friends, co-workers—that you need this time to yourself.
Writer Daryl Lindsey of Salt Lake City pointed out in a recent article for Hello Giggles, "Love is about support and respect, not constant attention. You should look for a partner who supports your interests and goals, even if they don't directly involve your significant other—and you should do the same for them."
In order to attain personal growth and goals, and to approach life with vigor, passion, and a positive outlook, you will need your best you—every day. That big apple that is your life requires attention and fairness. If you give it all away, your mental or physical health will suffer. But if you share it in equal parts with love and discipline, everyone will appreciate it. Enjoy every bite!
It's also a good idea to evaluate the benefits of Me-Time. You should be invigorated and ready to face workplace or family commitments with a more positive attitude. If your Me-Time plan isn't providing that emotional boost, make a new plan.