HELP THE HOGFISH: AMI OPEN MASTERS SWIMS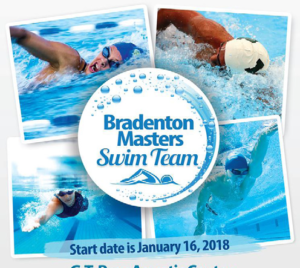 Swim your heart out with the Bradenton Masters Swim Team at GT Bray Park. They return to this venue for their USMS Morning Workouts. Tuesdays and Thursdays are the days to aquatically push yourself out into the next level. This group is fearless, as they do both indoor and outdoor activities. Coordinator Guy Bergeron is excited to take this event public.
Be sure to get ready to rise early as the event goes from 5:30-7am. This incredible new program is open to everyone for a small drop-in fee.
Cost is $45 per month and the address for G.T. Bray Aquatic Center is 5502 33rd Ave Dr. W., Bradenton. For more info, Guy Bergeron can be reached at 941-744- 7530 or guyberg2000@gmail.com.