Baby Boot Camp Open House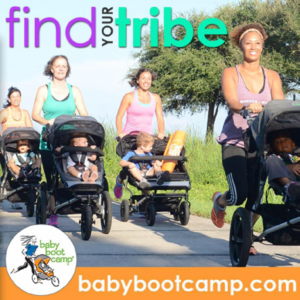 You can take a stroll by the bay in Sarasota and many mornings during the week you can find a group of dedicated moms working out, sharing motherhood stories and building life-long friendships, all while their little ones are in tow. Baby Boot Camp is a stroller-fitness class that combines strength-training exercises with cardiovascular drills in 60-minute sessions. It is designed to help moms regain or enhance their pre-pregnancy fitness levels as well as prenatal moms in the preparation of meeting the physical challenges of parenting, labor, and delivery, all done in a supportive environment.
From January 22 to February 2 as part of their open house classes are free. Classes are Monday, Wednesday and Friday at 9:30 at the downtown Sarasota waterfront.
Baby Boot Camp program has helped many women in the Sarasota area for the past 14 years recover from postpartum depression, lose the weight they put on during pregnancy and meet life-long friends. This sense of community had bred the mantra of Baby Boot Camp Sarasota—come for a workout, leave with a tribe.
When coming to class you need to bring your mat, water, & stroller (if bringing your child). Baby Boot Camp does not have contracts but they do offer three different plans.
For more information on Baby Boot Camp contact instructor Haley Wells at 407-472-7272, to register for the free open house visit, BabyBootCamp-Sarasota.pike13.com.