November 30, 2017
|
pulse
Hidden River Trail Now Open to Cyclists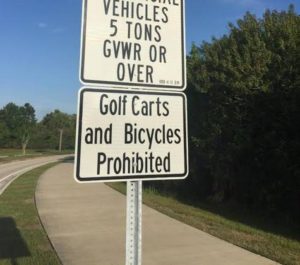 Hidden River Trail, the only east-west road between Lakewood Ranch Boulevard and Lorraine Road, a planned alternative to the major thoroughfares of University Parkway and State Road 70 is now open to bicyclists after a long debated dispute.
Construction plans for the road from more than a decade ago did not include bike lanes, instead calling for pedestrians and bicyclists to share a 10-foot-wide "multi-purpose path."
After the county received a complaint about bicyclists on the 10-foot-wide lanes used by vehicles, its traffic managers discovered that signs banning bicyclists on the road were missing.
In March 2015, the county replaced the signs. Shortly after, the Village Idiots Cycling Club complained about the reinstituted ban.
Finally, in late September, the County Commission decided to at last side with the bicyclists who prefer to use the street for safety reasons.
Although golf carts will remain banned, bicyclists will be allowed to use the street as an alternative to the multi-use trail.
For more information on bike-friendly routes in Manatee county, visit MyManatee. org. For more information on the Village Idiots Cycling club, visit VillageIdiotsCycling.com.