November 30, 2017
|
pulse
Fun & Fitness Expo at New College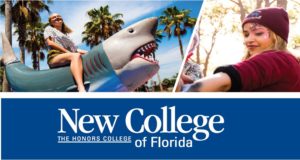 The annual Fun & Fitness Expo, at New College of Florida on Wednesday, Feb. 7, is celebrating its seventh year of introducing students and the community to old and new ways to be active and stay healthy.
"The Fun and Fitness Expo brings together students from New College, USF Sarasota-Manatee, and the surrounding Sarasota and Bradenton communities to engage with aspects of health and wellness that go beyond the conventional experiences of a health fair," said Dr. Anne Fisher, director of New College's Counseling and Wellness Center.
The event, free and open to the public, will feature more than 50 vendors offering items and services, including free haircuts, and manicures (Manatee Technical College students), to massage (Sarasota School of Massage) and acupuncture. There will also be food from local vendors including TCBY and Smoothie King.
For those looking to be active, the Expo will have a climbing wall, fitness demonstrations from Rosemary Court Yoga, Orange Theory Fitness, and representatives from the New College Sailing Team, YouFit, Fit941 magazine and Suncoast Jin Shin Jyutsu.
If you just want to see something cuddly, there will be a petting zoo by Mini Moo.
For those looking for health information and providers, there will be STI testing, and representatives from the Center for Skin Wellness, Planned Parenthood, DOH-Smoking Cessation, Abrams Dermatology, Chait Chiropractic, Health in Motion, Suncoast Blood Bank, Five Petal Holistic Healing and others.
Events will run from 1:00 p.m. to 5 p.m. Wednesday, Feb. 7. There will be at least 20 door prizes given away during the expo, and music and dance performances throughout the event.
The Expo is sponsored by New College of Florida, University of South Florida Sarasota-Manatee, and the Counseling and Wellness Center. For more information, visit NCF.edu/cwc/2018-fun-and-fitness-expo/.