November 30, 2017
|
pulse
Boutique Pilates Studio Opens in Braden River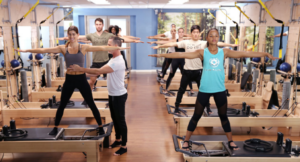 Club Pilates, the nation's largest premium Pilates franchise, is opening their first Bradenton-Sarasota location the weekend of Nov. 10-12th. Located at 5408 Lockwood Ridge Road, the new studio offers members total body workouts that help with posture, balance, flexibility and strength. There will be free demo classes for first time guests.
The light and bright studio welcomes members into an inspiring atmosphere where they can choose from dozens of group classes that utilize a variety of equipment, including reformers, EXO chairs, TRX, springboard and Barre. The Braden River location is owned by Peter Kilcullen and Gary Keith. You might recognize Kilcullen from HSN where he has been a guest expert for 15 years. He's also a longtime runner who recognized the need for a full body workout.
"When I first heard about Club Pilates I knew it was the perfect business to invest it," says Kilcullen. "It not only is taking pilates and making it accessible to everyone but provides a complete strength-training workout using state-of-the-art equipment."
Club Pilates is the first Pilates organization to create a proprietary 500-hour Teacher Training Program designed to thoroughly and safely teach group Reformer Pilates classes along with TRX, Triggerpoint, and Barre. Club Pilates has more than 140 locations in 35 states.
Founded in 2007, Club Pilates is a boutique fitness studio that specializes in strength-training classes for anyone, any age. For more information about how to become a Club Pilates member in Braden River, please visit ClubPilates.com/BradenRiver, or call (941) 260-3360.