Yoga Shredding – A Total Fitness Regimen for Body and Soul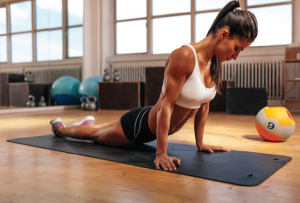 For all its commonly accepted cerebral and physical benefits, yoga is still sometimes, somehow seen as the not-so-fun "odd man out" in the realm of physical conditioning. Too brainiac? Too stretchy? Too counter-culture?
Now, in this modern world of blended families, new-age fabric combinations and fusion food fads, the world is primed for Yoga Shred. This new fitness regimen includes the mental focus and stretching postures of yoga with some high intensity exercises and movements—all aimed at producing inner peace and a healthier, fit physique, (or let's admit it–a hot bod).
According to online instructors, Yoga Shred can be offered in 14-day or 21-day formats, alternating yoga and the high-intensity workout for six days, then a seventh day of rest (like the Good Book says). The yoga workouts are pretty much standard fare with emphasis on breathing technique, postures like "dog" and "cobra," stretching arms, legs, torsos and core muscles, while all the time "mindfully exercising."
The shred part of the routine is more demanding on the muscles and cardio system. It incorporates either an upper body or lower body regimen of very active exercises for 10 minutes, repeated once or twice, depending on the participant's level of fitness. Described by one trainer as "shock and awe" for your body, the bending, squatting, crouching and reaching movements will provide big-time cardio benefits. On "shred day" there is no other workout, and the yoga is on schedule the following day.
Diet is also an important element in this fitness program. Without providing too many specifics, the promoters advise that diet is actually more important than exercise when it comes to fitness goals. If you plan to "rock your detox," the quality of food doesn't require more money, just wiser choices. Avoid carbs and sugar. Focus on plants. Find balance. Wine is on the approved list. Do your own homework about healthy food and include some "cheat meals" in your weekly menu to avoid any mental "punishment syndrome." Don't do radical cleanses. Basically, healthy in … healthy out.
While the Yoga Shred is not universally practiced, there are local yoga trainers who are offering their own version. Kelli Jaco at Soul Yoga in Sarasota said, "In my studio, I offer both yoga and fitness classes, as well as nutrition consultation. Pricing varies based on how in-depth of a program you are looking for." She added, "My own training is a hybrid of boxing, yoga, running and resistance training. I am constantly mixing it up as I feel it is important to keep your body guessing! I eat clean most of the time. Anyone can do yoga and workout. And anyone can eat clean. This program is for all!"
Her other insights include, "Practicing yoga and eating healthy are two fantastic ways to not only shape your mind, but also your body. Physically, yoga works to elongate the muscles. It is also perfect for stretching muscles and preventing injury. When supplementing your yoga practice with the proper nutrition, you are giving your body an overall perfect combo!"
Yolanda Nash operates Hot Yoga 4 You in Sarasota, where the spacious room, warm temperature (from infrared heating) and special air filtration system offer a unique environment for practicing yoga. "Our studio is a non-competitive atmosphere and beginners are welcome to any class," she explained, "We don't offer a special shred program but our yoga practice delivers so many benefits–flexibility, strength, focus, concentration. Clients come for weight loss and alleviate back pain and other physical injuries/ailments." At Hot Yoga 4 You, classes are offered seven days a week and there is special introductory pricing for Florida residents. Her own specialized training involved more than 500 hours of working out to achieve certification.
So the bottom line for those pursuing total fitness goals, such as a physique that is toned, lean, flexible and strong, a lot of trainers will explain that yoga alone isn't enough. It's good for slowtwitch muscles, stress reduction, moving, breathing and detox, but not so good for cardio and strong muscle development. Mixing it up with a few days of shredding may be your happy destiny! See you in the studio!