Yoga Nidra Lunchtime Bliss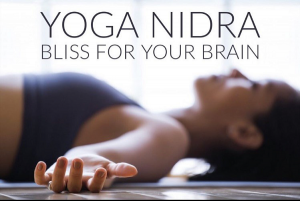 HotYoga4You has teamed up with SRQHelpsPR.com to directly help those devastated by Hurricanes Maria in Puerto Rico. On October 12th at 12 noon, HotYoga4You is offering a special lunchtime Yoga Nidra benefit class guided by Steph. Water, diapers and food donations are requested as contributions for a wonderful cause.
Yoga Nidra is an ancient art and practice of non-doing. Practicing stillness and quietness within your body and mind allows your organs and body systems to heal and regenerate. This can help you sleep better, neutralize stress, and move more fluidly through life, as well as restore much needed peace and harmony. The practice of doing nothing allows you the unique opportunity to reestablish a new, deeper relationship with your inner self.
Aside from being relaxing, restorative and restful, studies have also shown that yoga nidra can also: ease insomnia, decrease anxiety, alleviate stress, reduce PTSD, and heighten awareness and focus. Benefit from benefitting others at this special event.
Call to reserve a spot at 941-626-6396. HotYoga4You is located at 4021 Clark Rd in Sarasota. For more information, visit HotYoga4You.com.