REVO Relief is on the Way!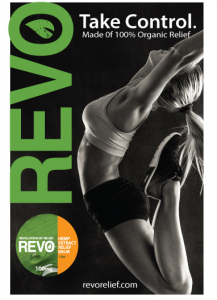 Revo, a unique combination of essential oils including the power of arnica and clary sage blended with the power of cannabinoids for natural lasting relief is now available through locally-based company REVOrelief.
REVO is a transdermal cannabinoid balm which is applied directly to the affected areas providing maximum effectiveness for pain. It provides a natural alternative to oral medication and living with pain. And best of all, it contains no THC.
REVO is currently setting up distributors in the 941 area and will soon be available throughout Sarasota and Manatee Counties. The product has been well received by athletes and will become available at key sporting events locally.
For more information on Revo, visit REVORelief.com or like them on Facebook, @REVOrelief.