Next Generation Cryotherapy in Sarasota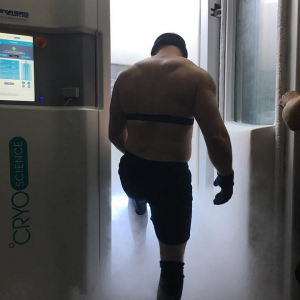 Whole body cryotherapy (WBC) is an established alternative to localized icing for illness, injury and inflammation. The benefits of WBC are myriad. And not just for professional or elite athletes, but for everyone and anyone who has completed an intense workout, suffers with arthritis, needs help with healing after surgery, suffered an injury, requires muscular pain relief from conditions including RA and tendonitis, is looking to improve mood, experience anti-aging effects, or needs help with weight loss, among many other benefits.
Gym SRQ Fitness and Fuel has one of only ten whole body cryotherapy machines in the U.S. of its kind. Unlike other cryotherapy machines in the area, the state of the art Cryo Artic device does not expose the customer to nitrogen gas, but instead pushes breathable air into the chamber. It features an automatic adjustable window to provide comfort during treatment and even a port to plug your phone in to listen to your choice of music during treatment. "Most whole body cryotherapy units treat from the shoulders down and only measure the temperature of the nitrogen gas being pumped in to the unit, making it difficult to accurately measure the air temperature the customer is actually being exposed to." States Bryan Lieberman of Gym SRQ Fitness and Fuel.
Cryo Arctic represents the next generation of cryotherapy devices and is now available in Sarasota. This brand new state-of-the-art technology is available to all GYM SRQ members and guests.
GymSRQ Fitness & Fuel is located at 3530 Clark Road in Sarasota. They can be reached at 941-348-6377, or by visiting GymSRQ.com.