F45 – The Toughest Workout You'll Ever Love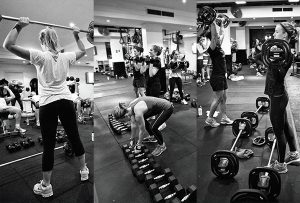 We apologize for borrowing a line from the famous Peace Corps ad a few years back, but that twist of logic and truth just seems to fit F45 training so well!
Originating in 2014, this Australian workout system—45 minutes of intense cardio, strength and endurance exercise— is catching fire here in the United States, with two studios already open in Florida and two new ones about to launch here in 941 territory—Sarasota and Lakewood Ranch.
Local franchise owner Lamar Miller spent time in Australia and experienced F45 training first-hand a few years ago. He really liked the varied mix of exercises—alternated all month long, as well as the team-building and inspirational coaching by the staff trainers. He said, "It's a mix of high-intensity interval training, circuit training and functional training—something for everybody."
According to trainer Catrina Liott, each 45-minute session includes only 27 people so that the trainers can provide plenty of individualized attention to every participant. "We are here to motivate, educate and ensure everybody's safe progress toward better fitness, and we make friends along the way," she said.
There are themes for each day, some of which have an emphasis on mimicking different sports movement such as swimming, fishing or boxing. This system has a successful track record for shedding pounds and adding lean muscle mass. The typical workout at F45 usually burns around 800 calories.
According to F45's own Web site, their Brooklyn Boxing session "puts your cardiovascular, strength, boxing, MMA, and martial arts to the ultimate test, while somehow finding time for a laugh." The Flamingo Athletica workout is described like this: "Get leaner, faster and more agile in a 45-minute cardio session that will have you sweating and gasping for air. Meanwhile your now Zen-like mind will be wondering how the time went so quickly."
You won't find a row of fancy machines at the 800 F45 facilities worldwide. They pride themselves on working with simple but proven workout devices such as jump ropes, weights, kettle balls and power bands. They also play a soundtrack of popular and energizing music, which sets just the right mood for a communal workout punctuated with groaning and laughing. Your monthly fee covers as many sessions as you want to attend. Showers are available for those who want to transition into work mode after a workout.
Marianne O'Neil of Darwin, Australia, is one devoted fan of the F45 program. She said, "I'm a distance runner, yoga instructor, and always active in some way or another. F45 training has helped me improve in all aspects of movement in my life and given me the best results I've ever had! There are always trainers there to motivate you, check your form and keep you going. Great music, great energy. The classes are over before you know it and while you are there, it's a full-on party! So Fun, so Inspiring, Love, love, love everything about it! "
To complement the workout regimen, F45 also provides nutritional counseling in several components. They offer online daily meal plans aimed at reducing body fat, streamlining your physique and simply making you feel better. They also suggest specific recipes with healthy ingredients and simple preparations because they know people are busy every day. Finally, they have actual grocery shopping lists that include everything you might need in a given week, to eliminate guess-work and keep you focused on fitness goals. It's like having a Fitness BFF at your fingertips!
The F45 Web resources also include exercise webinars, health and fitness tips and motivational messaging that will reinforce your commitment to this exciting community of active, healthy people—your new neighbors and friends at F45. To find out the details about joining the new F45 facilities in 941-Country, contact the F45 Team at: sarasota@f45training.com. Or call 941-677-7212.
GET ON IT!