F45 Free Outdoor Bootcamps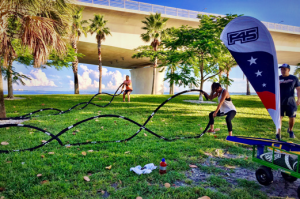 F45 training center is currently offering free outdoor boot camps. The boot camp will be held at different scenic locations around Sarasota which will be announced every week on their Facebook page at facebook.com/f45sarasota. The boot camps will be held until the opening of the downtown studio.
The F45 training concept from Australia is simple. It is a 45-minute high-intensity circuit training workout class. The class movements are chosen from a database of over 3,000 exercises, so members never get the same workout twice.
F45 is currently the second largest functional fitness network after CrossFit. It was born to bridge the gap between personal training and commercial gyms. The F45 fitness phenomenon has exploded across the globe. In just three short years there are over 750 franchises in 26 countries.
For a limited time F45 will be offering free outdoor boot camps and a two =week trial membership. For more information on the boot camp locations visit, Facebook.com/F45Sarasota. Or register for their two-week free trial membership by calling. 941-677-7212. F45 indoor classes will soon be offered at 1900 Main St. in Sarasota.