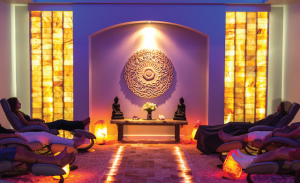 Breathe easy. A first-class salt therapy location is finally here in Sarasota. Salt of the Earth (SOTE) – Sarasota celebrated its grand opening on Saturday, June 3rd. Featuring a main salt room, kids salt room, private salt bed and private salt booth, SOTE offers the right treatment for anyone seeking relief from respiratory or dermatological conditions — and for anyone looking for a quick and relaxing recharge.
Dianna Manoogian, owner and operator of Salt of the Earth, said, "I've always been interested in various natural treatments for myself and my family. After visiting several salt caves in the northeast and Florida, I thought there was a great opportunity to create a relaxing environment where Sarasotans can find a reprieve from ailments that effect their breathing, skin and more. With the unrelenting help of Baldwin Construction we think we've created a special place to relax, heal and restore."
SOTE is located in the Expo Center at 4037 Clark Rd. Massage Envy's Sarasota South location and Hot Yog 4 You are also located in the Expo Center, making it an increasingly healthy destination in south Sarasota.
For more information on Salt of the Earth, visit SOTESarasota.com.