Healthier U Challenge – A BETTER YOU IN 35 Days!
Dates updated as a result of Hurricane Irma. New dates are: Jan. 15 through Feb. 19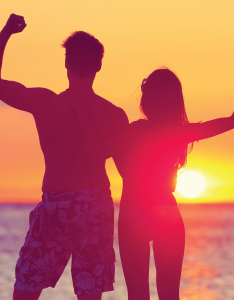 Want to change your life for the better in only five weeks? Want to feel healthier, stronger, and more attractive? Want to be more focused, organized and alert? Want to take home some really nice prizes and make some new friends?
If you nodded your head to any or all of these questions, then you need to sign up for an exciting new fitness challenge program co-sponsored by Fit941 Magazine and an array of local sponsors: The Healthier U Challenge.
This fitness program is designed for individuals or groups who are dedicated to some sensible and universal ideals:
• to see people live longer, fuller and more active lives,
• to see less disease in families
• to educate people about the benefits of eating whole foods in
order to be disease-free
• to change lifestyles enjoyably with family, friends and community.
The Challenge will take place between Sept. 18 and Oct. 21. Jan. 15 and Feb. 19 (Changed due to Hurricane Irma)
During those five weeks, a whole lot of excited people will be taking initial measurements, keeping track of workouts, logging in nutritional efforts, and making lifestyle modifications. You can do the program as an individual or coordinate a group (5-9 members, 10-19 members or 20-plus members). Maybe your office workers want to try this as a team, or your gym pals, or your neighborhood friends, or a book club, or members of your church. Use your imagination!
The program is open to people 18 years and older, and there will be three divisions: Open, Masters (40-49) and Masters- Plus (50 and over).
The participants will also be "sorted" according to two basic diet paths—Classic and Macro Focus, and you select the group that's best for you. Both are built on the same approved diet levels and same wholefoods- based nutritional philosophy. Members will be given a choice of three different levels of diet (Starter, Pro and Elite), which they can follow and switch between during the five weeks.
What's expected?
Within the 5-week Healthier U Challenge, it is our goal to educate as many people as possible about creating a healthier lifestyle.
• It will start with body weight/measurements. Within the first and last week, participants will be responsible for taking their body measurements and body weight. Also, although it is not required, there will be a body fat analysis procedure available.
• Diet: You will log daily how well you ate for the day. This will help people hold themselves more accountable.
• Goals: You will select five goals to focus on during the five weeks.
• Lifestyle Focus: We will help you identify unhealthy habits and routines and help you develop alternatives for a healthier you.
• Workouts: Assigned weekly
• Each member will have access to his or her own personal challenge page, including:
• 5-week meal-plan with grocery list
• Dozens of additional recipes
• A nutrition education blog, which is a valuable resource to learn new recipes, get advice from other participants, and share your ideas.
• Food database where participants can research the status of favorite foods to determine "allowed" or "not allowed" status.
• Food summary chart that lists the foods they can eat during the challenge
• Tracking of diet and goals
• Q&A to help assist anyone in need.
Keeping score and earning prizes
There are prizes in both individual and team categories, based on performance levels in diet compliance, workout performance and improvement, and lifestyle focus. The contest rules on the Web site will provide details. Prizes include workout apparel, exercise equipment, dietary supplements, running shoes, exercise programming and more. In addition, there will be weekly raffles prizes for all participants. You can be a winner in many ways as part of the Healthier U Challenge!
Alia White of Bradenton took part in the fitness challenge in 2016. She says she is so glad she did it, adding, "Though I had been active my whole life, I struggled with 'looking active,' physically. I had been Crossfitting five or six times a week for two years, and was eating what I knew to be a healthy diet, but I was still frustrated with my physical progression. In January of 2016, I was introduced to the paleolithic diet as part of a fitness challenge. I committed myself to the diet and began shedding weight, using a five-week plan. I eliminated grain, dairy, processed foods and additional sugar. Ironically, I was eating more than in my previous diet and taking in more carbs, but after five weeks, I had lost 11 pounds and a spark was lit! Now, 18 months later, I am healthier than ever and 50 pounds lighter as I continue to follow the lifestyle."
Ready, Set, Go!
You can do your regular routine and slump along. Or you can shake things up as Alia White did with an intensive commitment to fitness and performance by taking part in this Healthier U Challenge. Talk to your family and friends. Challenge each other. Challenge yourself. Go to this link today and find out more details. A healthier you is just five weeks away! Sign up between Aug. 15 and Jan. 15 at Fit941.com.