From the Top Down Massage Envy Introduces Total Body Stretch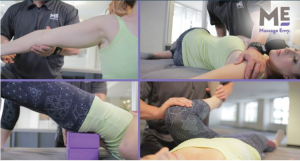 Stretching makes the best of every body. Combining over 15 years of massage expertise with the latest stretch research, Massage Envy developed the exclusive Streto Method. It's a premier, customizable, assisted stretch service designed to relax your mind as your body unwinds.
The Streto Method follows the concept that relaxation starts with the brain and travels downward. So, Massage Envy stretch providers begin with your neck and shoulders progressing down to your feet. The method is a result of applying innovative concepts to the therapeutic field. It's inspired by various relaxation and wellness activities, from yoga to meditation, using deep breathing to connect the mind and body.
The Streto Method is fully customizable to your activities and individual needs. Each stretch builds on the others to provide a total body stretch. Experience it as a stand-alone treatment or as a complement to your favorite massage. The Streto Method is just one of Massage Envy's growing assortment of services, and yet another valuable part of a Massage Envy membership.
The Streto method is offered along with massage and facials at all three Massage Envy locations locally. For more information on Streto, or Massage Envy, visit MassageEnvy.com or call 941-308-7600.