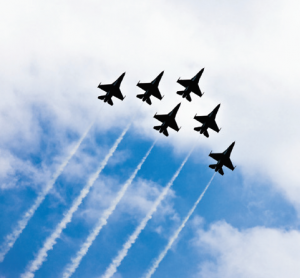 The Florida International Air Show has been delighting spectators with the history of aviation since 1981, this year they are pleased to announce a one-of-a-kind experience that will thrill the aviation and running enthusiast alike with the Inaugural Florida International Air Show 5k!
This unique race will get you flying high as you circle around an active airport, through the danger zone, and finish in true Top Gun fashion, through a spectacular static display of military, vintage and civilian airplanes, right on the runway!
After you make your final approach to the finish line, enjoy your accomplishments at the Tarmac After-Party with yummy food, drinks, and up close viewing of the aircraft static display! Then stick around and enjoy the rest of your day at Florida International Air Show.
The FIAS 5k will be held at the Charlotte County Airport on Saturday, October 14th. To register for this event, visit RunSignUp.com.