F45 Training Coming to Sarasota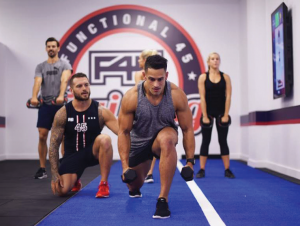 F45, short for Functional 45, the latest group training concept from Australia, is coming to Sarasota in September. Glamour magazine's Glamour team recently tested one of F45's classes and rated it as one of the best and most fun new fitness classes to try now.
The concept is simple: F45 studios all over the world offer a 45 minute high-intensity, circuit training workout class for studio members. They have developed 27 different 45-minute workouts, with more currently in development. Studios offer the same class at different times throughout the day. Every day throughout the week offers a different 45-minute workout. The workouts are created by the F45 Athletics and Peak Performance Department from a database of over 3,000 different exercises, so members never get the same workout twice.
F45 is currently the second largest functional training network after Crossfit, and it was born out of the desire to bridge the gap between personal training and commercial gyms.
The F45 fitness phenomenon has exploded across the globe, and in just three short years over 750 franchises have joined the fitness network in 26 countries. This F45 craze is growing faster than bunnies in the Outback! For a limited time, as part of their grand opening, you can register for two free weeks of classes online.
Fit 45 Sarasota will be located at 1900 Main Street in downtown Sarasota. For more information on their unique training classes, or to take advantage of their opening special, visit F45Training.com/Sarasota, or call 941-677-7212.