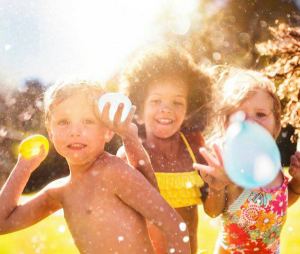 For Sarasota students, the last day of school is June 6 and for Manatee County school kids, the last day is May 31. YMCA summer camps begin in Sarasota on June 7 and in Manatee County, on June 5. There are so many options for a summer camp experience at the Sarasota and Manatee county YMCA's that they won't all fit in our pages! Let's just say that you-name-it, they have it: Arts to UK-style soccer, adventure to tennis, gymnastics to swim, 'kinder' to teen, leaders and lifeguard, expeditions and sports and that's not the half of it. But it's not just the Y's that provide great summer camps: community centers and churches, youth clubs and parks. Here's some contact information for a curated list Fit941 thinks may be a great fit for you and your kids, but by no means includes all summer caps – and there are plenty!
So, here you go and have the best summer ever!
Sarasota YMCA's Best Summer Ever Camp list includes the Wild about Florida 'Incredible Camp' – where kids go off-site and visit local parks and beaches and other cultural and recreation venues — and a plethora of active, adventure and sports camps – swimming, tennis, gymnastics, soccer, basketball and lots more – keep kids happy and healthy. The Y website includes a color brochure with great camp descriptions and all the how-do's and must-do's. Learn more by visiting SarasotaYMCA.org/camp.
Manatee County's YMCA's Best Summer Ever Camp includes three locations for campers in Bradenton, Lakewood Ranch and Parrish. With programs from traditional full days to mini-camps, kids can enjoy an essential camp experience in specialized programs like dance, circus arts, even musical theater! And there's a ton of sports and fitness related camps including swim, volleyball and cheerleading, not to mention all we have already mentioned! Plus, at the Parrish branch there's the Camp Rivers Edge camp and at LWR, STEM, culinary and even, yup, manners camp. The Manatee County Y also has great camp pages and a brochure on its website with everything you need to know. Visit ManatteYMCA.org
Nathan Benderson Aquatics Camp provides kids from 10 to 18 with a unique camp that is focused on water sports kayaking, stand-up paddleboard, rowing, boater's education, powerboat driving (for teens 14 and up) remote control sail boating and more. Camp begins May 29. Campers need to bring along a healthy snack and lunch, a full water bottle, sunblock, hat, sandals with heel straps, and should also dress in layers. For more information and to sign up, visit NathanBendersonPark. org/Programming/Camps
Manatee County Summer Blast Camp 2017 offers a summer camp and recreation program that can be designed to fit a family's needs with two camp locations: G.T. Bray Park Recreation Center, 5502 33rd Avenue Drive West and the John H. Marble Recreation Complex, 3675 53rd Avenue East. For more information call Manatee County Parks and Rec at 941-742-5923 or visit MyManatee.org
State College of Florida's Kids' Summer Spectrum Camp is a recreational and educational summer camp for children ages 7-13 with activities including arts & crafts, cooking, science and computer classes, along with sports like kickball and volleyball and much more. Students may register for morning sessions, afternoon sessions, or both, with supervision provided at lunch time. Morning care is available at SCF Bradenton and SCF Lakewood Ranch for an additional fee. There's also a Computer & Technical Camp for at SCF Lakewood Ranch. For more information, call SCF at 941-752-5203 or visit SCF.edu and click on Corporate/Community, and then Kids Summer Spectrum.
Circus Arts Conservatory's Circus Arts Camp is among the only one of its kind and for that reason alone, we think it's cool, plus, amazing fitness for kids! From weekly sessions from mid-June to mid-August, this camp teaches kids acrobatics, balance on the low-wire, the art of the flying trapeze, even juggling. Held daily from 9 to 3 p.m., on Fridays campers present a costumed showcase for their families to show off what they've learned. For more information visit CircusArts.org/circus-summer-camp or call 941-355-9335
Sarasota Youth Sailing's Summer Camp is the longest running water sports camp in Sarasota, and as it says on its website, "many of our parents/grandparents and instructors grew up in our program." Camp is held rain or shine; if the weather is bad, activities are held in a sheltered area. That said, summer is hurricane season so if there's a 'cane or tropical storm, camp be forced to close. For beginners to savvy teen sailors learning to race, this is one cool camp. Visit SarasotaYouthSailing.org/summersailing for more information.