More Than a Fighting Chance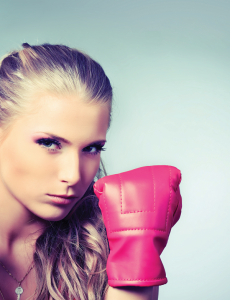 Alexa Baroncelli, a soft-spoken and petite high schooler, drilled like the Israeli Special Forces at Krav Maga Manatee with one goal in mind.
"I [wanted to] feel safe in any situation," Alexa says in a video about her experience. "It's especially good for a young girl like me."
Alexa's decision to take the All Women Empowered (AWE!) self-defense course at Krav Maga Manatee was a wise one.
One out of every six American women from age 12 to age 65 has been or will be assaulted, with women aged 18 to 34 at the highest risk for an attack (with college-age particularly vulnerable). And, as terrifying as that is, according to the federal Bureau of Justice statistics, police response time for an assault ranges from 5 minutes to an hour or more, though the average minimum response time is 11 minutes to an hour or even more. So best case, you're on your own for 11 minutes. A lot can happen in that time. It's scary. But it doesn't have to be.
Fifty-something Candi says the AWE! self-defense course at Krav Maga Manatee changed her life.
"I have emerged as a confident woman, aware of my surroundings, at all times. I never want to be attacked, however, I am equipped with the skills and mental attitude that will ultimately save my life," she says.
And importantly, she adds, AWE! is for all women, no matter their age or level of physical fitness; John Brockhoff and his staff will get you into shape.
"We had a range of ages in our class, including three of us in our 50's," Candi says. Indeed, in March, a 70-year-old Sarasota County woman was attacked in her own home. By someone she knew, trusted.
"You have to arm yourself with the tools you need to feel powerful, in any situation," Candi says.
John says his class is for every woman.
"Whether you are a mom with children to protect, a working female in the workforce, a single female, an athlete who works out in unfamiliar locations, a student going off to college or simply a woman who wants to be empowered, this class is life-changing. You will leave this class knowing you have what it takes to avoid being a victim and to protect you and those you love."
Krav Maga Manatee's AWE! self-defense course, a five-class series with each class lasting 1 ½ hours, is, John says, based on the techniques used by the Israeli army, called Krav Maga. Not a workout class per se, though John says "they'll be sweating and getting the heart rate up," it is a challenging course but if Candi can do it, so can you. John explains the course teaches women how to defend against attackers, free themselves from an assault, and respond appropriately when threatened.
"Women will gain awareness of dangers and have opportunities to apply skills in live attack simulations with detailed coaching and feedback," John says, adding that at the end of the course there are simulated, but very realistic attacks "to make sure the women feel comfortable fighting back when attacked and that they leave empowered."
And take Candi's advice: "Grab your daughters, mothers, aunts, neighbors, and friends and let's all band together so that women will no longer be victims."