Working out while pregnant isn't just good for mom, baby benefits too.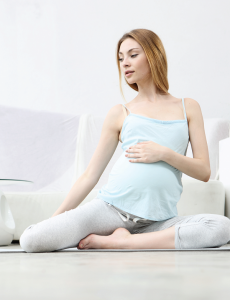 We may be preaching to the choir here, but suffice to say essentially everything a pregnant woman does, her unborn does too; they're along for the ride. So it stands to reason the healthier a soon-to-be mom is the healthier too will be her baby. Let's just debunk right here that aerobic exercise, you know even a brisk walk, might induce labor, exercise increase the chances of low-birth weight, tooearly delivery, or miscarriage – it's just not true.
Not only should expectant women walk, they should do that and more. When done safely and smartly (See Do's and Don'ts and When Exercising), not only is physical moderate aerobic exercise and activity good for mommy, it has the potential to be significant for the unborn child's future health. According to the University of Virginia School of Medicine evidence suggest myriad diseases are influenced by the health of a pregnant woman for their developing offspring. Researchers at the Berne Center say "the amount of exercise you have during pregnancy and … has a distinct molecular consequence on your child, and that allows them to be, essentially, more fit."
Well there you have it. Don't take it from us, take it from the scientists. Or even better, from local fitness professionals and trainers who not only talk the talk but have, literally, walked the walk: working out while pregnant and in one case, during a high risk pregnancy.
CrossFit owner/train Beth Vannata
"I found out I was pregnant at the peak of my training. I was hitting personal records in the gym regularly, and I felt like I was in the best shape of my life. After talking with my midwife at my first appointment, she gave me the go-ahead to continue working out, but to be sure to listen to my body. As my pregnancy progressed, the workouts definitely got harder. I had to slow down my intensity and had to modify movements such as burpees and box jumps to protect myself and baby. I maintained a threeto- four day a week regimen, focusing on good form, breathing and proper nutrition until the day after my due date (my baby was born four days late, with no drugs and a quick labor that lasted less than five hours). Post pregnancy, I bounced back very quickly and was back in the gym four weeks after giving birth. My cardiovascular endurance was the quickest to return, while abdominal strength has been a bit slower. I believe that working out during my pregnancy allowed me to recover and to lose my baby weight a lot quicker than had I remained sedentary."
Certified personal trainer Christina Valenza
"Fitness has been a part of my life since I started lifting weights and taking aerobics classes in high school. In college, I sat on the advisory board for the Wellness Center at the University of Miami (representing the Panhellenic Council). When I was recruited as a health club manager in 2001, I jumped at the career opportunity. I became pregnant in the summer of 2007, and much to my dismay was diagnosed 'high risk' and at 11 weeks I underwent a major surgery to hold the pregnancy to term. Determined to stay fit and healthy, I worked with my obstetrician to find an exercise routine to suit my individual needs. I lifted weights, walked, used the elliptical trainer and incorporated yoga into my workouts, maintaining a low to moderate intensity. During my last trimester, I was put on restrictions but continued to walk and do body weight squats and modified push-ups and planks. I had a scheduled Caesarian birth at 39 weeks, during which my obstetrician complemented me on the strength of my core muscles (which he required assistance from two nurses to separate for the delivery). I was released to resume exercise four weeks later and slowly returned to a normal workout routine. It was at this time that I decided to get certified as a personal trainer and learn to coach other women through fit pregnancy, delivery and postpartum recovery.
In late 2010, I began working with Nilofer Khatri, a pediatric dentist who had serious back and neck issues from a prior accident and surgeries. Her goal at that time was to get healthy before starting a family. We worked together for several months to lower her body fat and increase strength, flexibility and balance. When she became pregnant with her first, the workouts continued. Nilo maintained a healthy lifestyle throughout three pregnancies under my guidance. I modified the training program to reflect what best suited her needs, with a heavy focus on core stabilization and breathing technique. After each pregnancy she was cleared to resume exercise quickly and the goal at that time was to prepare for the next, as she now has three young children who were born in short succession. Fit pregnancies allowed her body to recover faster and gave her increased energy both during and after birth."
Health and nutrition coach Michelle Leon
"Some new moms think once you get pregnant, you can no longer exercise, and that is simply not true. In fact exercise is very important even while you're pregnant, and can help the body prepare for labor, as well as relives some common discomforts of pregnancy. It is common to fear exercise while pregnant; however it is actually more commonly recommended, especially if you were already active before being pregnant. However, always speak with your healthcare provider and listen to your body. I recommend planning your days and times during the week when you will be exercising. Thirty minutes a day, all or most days is very beneficial if you are feeling up to it. However, 20 minutes for three or four days is still beneficial. The important thing is to get the blood flowing.
If you participated in an exercise prior to being pregnant, it is likely OK that you continue. However if you haven't there are great low impact options such as walking, yoga and dance. You will want to avoid high intensity workouts, and anything can have a high fall risk. Also it is very important to remember that weight loss is not your goal; you should be consuming enough calories for pregnancy with your activity, as well as lots of water before, during and post workout. You'll find that being active during pregnancy can help: relieve stress; boost endorphins; prevent or treat gestational diabetes; help reduce back aches, swelling, constipation and bloating; help you sleep better; and, will help during labor. Plus, it will be easier to get back into shape post-baby."
Speaking of postpartum, exercise helps improve mood and, when combined with heathy eating, can help shed that baby weight more quickly. Bonus: moderate intensity exercise may ward off the post baby blues. So grab that running stroller, and get outside with your baby.
Contact health and nutrition coach Michelle Leon, who also provides online fitness consults and teaches "bump-friendly" dance classes at Shapes, at 941-313-4525 or Mikala.leon@gmail.com
Contact CrossFit Bradenton Owner/Head Coach Beth Vannata@CrossfitBradenton.com or 941-465-8261.
Certified Personal Trainer at Crunch, Christina Valenza may be contacted at christinavalenza@gmail.com, text 941-685-7947 or visit Crunch at 3762 Bee Ridge Road or 8440 Lockwood Ridge Road.
When Exercising:
Wear the proper clothing
Warm up
Don't exercise outdoors in too-high heat or humidity
Drink lots of water
Never lie flat on your back
Get up from floor exercises slowly
Do a cool-down routine
Don't overdo it
Great Exercises:
Swimming
Water aerobics
Prenatal yoga
Brisk walking
Running
Pilates
Cycling
Dance
Aerobics
And lots more: speak with your doctor and fitness professionals