A Fit, And Healthy, Vacation Adventure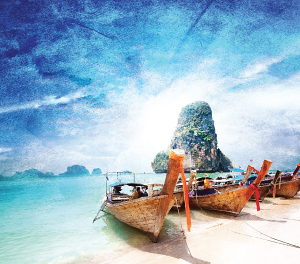 How about a vacation fit for, well, a fitness aficionado? Maybe it's extreme mountain climbing tens of thousands of feet into the sky in Asia, like Himalayas — Everest or Karakoram (K2). Or jet south to scale the 4,000 mile-plus Andes in any one of seven South American countries from Bolivia to Venezuela. What about an insane surf adventure in Nosara, Costa Rica? How does scuba diving, at perhaps the best dive spot on the planet, Sipadan Island in Malaysia sound? Or if it's CrossFit you dream about, try Extreme CrossFit in Maui. Then there's mountain cycling in Chile and rafting in Patagonia. Or maybe you'll do it all in a South African adventure that includes hiking, cycling, sea kayaking, and personal trainers on site.
Are you ready to pack yet? You'll need gear and we've got you covered on that, but you must make sure to add travel medicine to your to-do list. With online trip planning more common than ever, it's easy to overlook one of the most important parts of the plan – making sure you don't get sick, or worse, come down with a disease or illness that not only ruins your vacation but could linger well beyond the two weeks cycling the Australian outback.
For example, before packing your board wax, you'll need a typhoid shot for Costa Rica. Before you pack a wetsuit for your Malaysian trip, you'll need vaccines against Hepatitis, among others. Before you check on shipping rates for your bike for that cycling sojourn in South Africa you'll need to be inoculated against Yellow Fever. Before that life jacket gets packed for that rafting adventure down the Zambezi, you'll need prescription malaria medications. And the list goes on and on depending on your destination, like a vaccine against Japanese Encephalitis if you're thinking about the Himalayas.
Not every amazing location on the planet requires several vaccines, but you must be informed and prepared.
And for those concerned about fitness and health, specifically not wanting to pump your body full of preservatives or mercury, vaccines without toxins, and often vegan-friendly, exist and you don't have to go far to get them.
Some are concerned about the ethylmercury (thimerosal) contained in some vaccines and in addition to mercury, other ingredients include egg proteins, gelatin, phenoxyethanol, and formaldehyde – the former two obviously unfriendly to vegetarians and vegans and the latter chemicals many would prefer not to have injected into their bodies.
And while influenza season ends soon, it's always flu season somewhere. The groundbreaking flu shot Flublok does not use mercury (thimerosal), eggs, antibiotics, formaldehyde, influenza virus, latex, gelatin, or preservatives in any part of the manufacturing process, for example.
But it's not just vaccines that a traveler planning a fitness themed overseas vacation, especially in tropical climates where Zika, malaria and cholera are not uncommon, should concern themselves with. The most common travel-related illness is traveler's diarrhea (TD) contracted through contaminated water or food. But you can prevent an illness with some simple precautionary measures and supplies: carry water purification tablets and drink only bottled beverages (no ice cubes!); make sure meats and seafood are well-cooked; for motion sickness you can benefit from dermal patches; for high altitude travel, think mountain climbing 20,000 feet in the air, there's easy-to-carry canned oxygen products; and to prevent Zika, use mosquito repellent and netting.
If you feel overwhelmed, don't.
Right here in the 941 we have access to three Passport Health locations and the place for adventure travel gear, Environeers, carry mosquito netting, water purification and filtration products, hydration and medical kits. Passport Health provides motion sickness and TD medications, and Dengue prevention, and carries products from mosquito prevention tools, steripens, masks, re-hydration salts, among myriad others.
And Passport Health provides travel medicine, immunization services and "first class medical care, and rigorously trained medical staff." In addition to travel medicine and vaccines, including the ones that are extremely difficult if not impossible to locate locally like anthrax, Japanese encephalitis, and yellow fever, it also provides specialty physical exams; lab test services; and vaccination records management services.
"At Passport Health, we have the travel health medical resources and tools to ensure that no matter where in the world you're headed, you will be protected, healthy and safe," says Passport Health's Dee Dee Eldridge, RN.
And, Passport Health has a plethora of knowledge about how to stay safe and destination-specific tips on entry/exit requirements, travel health and safety tips, what to bring, do, and avoid wherever in this world you travel including, importantly, destination-specific tips on entry/exit requirements and offers passport and visa information and expertise, can help expedite the vis and passport process; they even have a concierge program that does everything for you.
And while Passport covers the travel health base, Environeers hooks you up with the gear you'll need. They've been helping local folks for a quarter of a century with supplies and advice for any adventure trip, from an African safari to a Bolivian mountain climb.
Okay, so now you can start packing. Don't forget the sunscreen.
Founded in 1994, Passport Health is the largest travel health provider in the country with three locations in the 941. The Sarasota, Bradenton and Port Charlotte Passport Health locations are just three of the hundreds found nationwide. For more information on vaccines, or a travel consultation contact or visit: Sarasota location at the Courthouse Square Building Complex, 2195 Ringling Blvd., 941-362-030; Bradenton at 5190 26th St. West, 941-462-4338; or in Port Charlotte at 1777 Tamiami Trail, Suite 405, 941-7222. Find all on the website at PassportHealthUSA.com/locations.
Envioneers is located at 5375 Fruitville Road, in Sarasota, Call 941-371-6208 or visit Environeers.com for more information.