Sarasota YMCA Sharks Win 16th National Championship!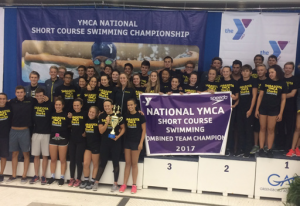 The Sarasota YMCA Sharks Swim Team won the 2017 YMCA Short Course National Championships held in Greensboro, NC, April 3-7. Over 70 teams competed in the four day event which featured swimmers ages 12 to 18. The Sharks have won 16 YMCA National Championships since the late 70's and 2017 marks their third consecutive win.
"We are proud of the hard work and dedication that our swimmers bring every day at practice and to our meets," said Brent Arckey, Head Coach of the Sharks swim team. "This meet was particularly exciting as the Men's 100 backstroke, Men's 400 Medley Relay and Men's 800 Free Relay broke National YMCA records!"
The Sarasota YMCA is a nonprofit committed to strengthening the community through youth development by nurturing the potential of every child and teen; healthy living by improving the community's health and well-being; and social responsibility by giving back and providing support to our neighbors. For more information visit sarasotaymca.org or call 951-2916.