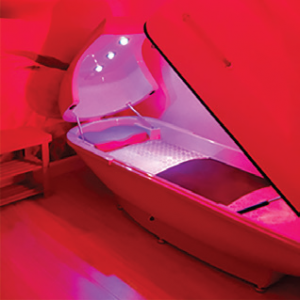 The Thermogenesis Health Pod™ better known colloquially as infrared anti-aging pods at Blufit Recovery & Nutrition detoxify, increase your metabolism, reduce stress and improve your well-being.
The anti-aging far and near infrared sauna technology is an aerobic massager that converts rotation energy into vibration energy. The Thermogenesis Health Pod has solenoid circulation enhancing massagers, Chroma therapy LED light cycles, and a salt therapy heat pack. The ceramic, jade and minerals bed emits far infrared within aromatherapy-infused air.
And in honor of Mother's Day and in solidarity with Fit941's Women's Health May issue, Blufit Recovery & Nutrition is offering a two-for-one treatment for $69. Blufit Recovery & Nutrition is located at 3529 S Tuttle Ave. in Sarasota. For more information visit BluFitRecovery.com, call 941-677-CRYO (2796) or email info@blufitrecovery.com.