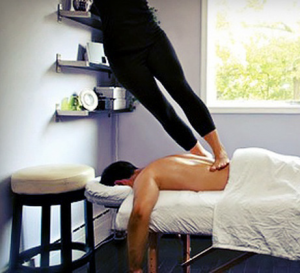 A shiatsu is a unique style of barefoot massage, inspired by the traditions of India, Thailand, and the Pacific islands. Supported by overhead bars and assisted by gravity, the therapist uses her feet to deliver comfortable compression to the deep muscle layers. The broad pressure and flowing strokes induce relaxation and assist the flow of the lymphatic and circulatory systems, helping the body heal damaged tissues.
Because there are relatively few practitioners of Ashiatsu, many people who might benefit from it have never heard of it. Danielle Price, LMT, is offering a limited number of introductory demonstrations on May 26 and 27. Demonstration sessions will be 20 minutes, and will allow those curious about Ashiatsu to experience 'the deepest, most luxurious massage in the world.'
For more information on cost and for reservations, call 941-404-5124.