Who Isn't Doing Compression Therapy?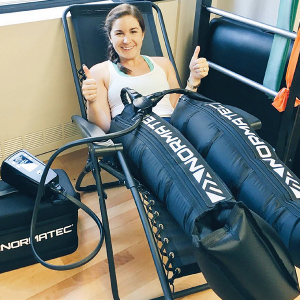 The question isn't which sports team, icon or celebrity has raved about compression therapy in an Instagram, Twitter, Facebook or Snapchat post. The question is, 'Who hasn't?'
Compression therapy is the go-to recovery method for you-name-it professional and collegiate sports teams, endurance and elite athletes. Olympic Gold medalist Simone Biles and basketball legend LeBron James recently posted pics of themselves undergoing compression therapy on social media. The Boston Ballet, US Rowing, and Ironman US Series, the NFL Giants and the NBA Celtics, USA Cycling, USA Triathlon even pop star Drake in an Instagram post, are all onboard with compression therapy and the NormaTec boots in particular. Forbes magazine says Drake is a fan, not an official rep. NormaTec CEO Gilad Jacobs said the hip-hop superstar was not compensated; he just really "does love his NormaTec." Jacobs went on to say hundreds of his massage compression therapy boot devices were used in Rio's Olympic Village. And the system has been featured widely in the media from Bloomberg to Wired magazine.
What is it?
Simply stated, compression therapy increases blood flow in your limbs which greatly helps in recovery. Through graduated compression from the ankle up, where there may be restricted blood circulation, the pressure and contraction helps to loosens veins, reduces pain and promotes recovery. The principle of this therapy is to exert a controlled pressure on the limb.
Why NormaTec?
MannyTurcotte from BluFit can tell you. So can Dr. John Lieurance from Advanced Rejuvenation and myriad other local recovery and rehab venues, including IMG.
There is no shortage of data and studies to back up the claims of the benefits of compression therapy for athletic recovery. NormaTec uses 'Sequential Pulse' technology which "synergistically combines three distinct massage techniques to speed the body's normal recovery process: pulsing compression, gradients, and distal release. Through these mechanisms, the NormaTec Recovery System maximizes circulation throughout the body to help you look better, train harder, and recover faster."
How it Works
The NormaTec boots' pulse massage pattern starts in the foot, hand or lower hip and then moves upward zone by zone massaging, compressing and holding, and then repeating that pattern to get that blood circulating and moving out of extremities. Using compressed air, the cycle begins with pre-inflation which allows the boots to mold to your limb and then the compression begins, which feels like the kneading and stroking
you experience during a massage, as a pulse and then a release. This will repeat for each segment as the compression pattern works its way up your limb.
Besides recovery, some of the claimed benefits of compression therapy include the reduction of inflammation and pain, it removes toxins, improves circulation, decreases accumulated water in the limbs, that 'heavy leg' feeling, and may assist in preventing the development of cellulite and can tighten loose skin.
Recovery in the 941
"Compression therapy is a great way for athletes to recover," Manny Turcotte of BluFit Recovery and Nutrition, says. BluFit features 30 minute and one-hour sessions with the compression therapy NormaTec system.
"But it's not just elite athletes, because compression therapy can help anyone have better circulation and it can relieve pain," Manny says. "Plus, compression therapy can prevent early onset varicose. And those are just some of the benefits."
At Advanced Rejuvenation, Lieurance says that while the benefits of compression therapy are many and widely studied, it's a seefor- yourself recovery method.
Backed by research, Lieurance says the "dynamic compression enhances pressure-to-pain threshold in elite athlete recovery."
To check it out for yourself or get more information, visit blufitrecovery.com or advancedrejuvenation.us.