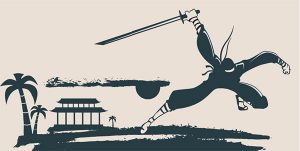 The American Ninja Warrior TV show was spun-off eight seasons ago from the Japanese completion series Sasuke. And while since its first season only two competitors have actually won the course, a number of local warrior hopefuls are waiting for a call-back for the ninth season of the popular obstacle course show as Fit941 goes to press.
LIVE Training Center owner and trainer Dale Lively says in 2016, 10 of the 100 ninjas that were called from the region for American Ninja Warrior Season Eight "frequented our facility for all of their Ninja Warrior training needs."
LIVE Training Center is where competitors, aspiring competitors, or just someone who has watched the show comes to train on obstacles from the actual show to best prepare for the task at hand.
"That's unheard of. Think about that. They're only taking 100 people from the southeast — and they have thousands and thousands applying — and 10 of them are from our facility. Wow. That has to say something. I'm a little biased but we are pretty good at what we do but also that we're one of the only facilities around that has the resources that we do," Dale says. "It's a big attraction for a lot of people in central and southwest Florida but we've also had a girl come from Georgia, one from Miami, people from the Panhandle, from all over."
But training like a ninja is more than just trying to get on national TV. It's a fitness lifestyle.
"The show is only a few months long so there are leagues and events that fill in the time between shows in an effort to bring awareness to the sport and to keep everyone in shape," Dale says.
Recently, the Ultimate Ninja Athlete Association (UNAA) held a competition for "ninjas to hone their skills."
"Our Ninja Warrior program uses our indoor obstacle course in our 7,500-square foot facility. It's a living and evolving obstacle course. What I mean by that is this sport is constantly evolving, changing, growing in an effort to try and keep up with the athlete as they continue to get better. So the course we have set up is always changing; it gets continually challenging and difficult."
And then there's the thing about ninjas, he says, they don't really compete against each other as much as against the course itself.
"One of the very cool things about this sport, is the camaraderie; the ability to share in each other's successes," he says.
That's cool, but what about the person who wants to give it a go but is a bit intimidated?
"We recently had a mini competition where 30 clients came and competed in a very friendly manner; veterans and beginners. The experience we have and share helps when beginners come in creating an environment for anyone that walks in and says, 'You know what, I have never been able to do a rope swing or a cargo climb or scale a wall or do quad steps or any of those things I see on TV.' We say, 'We're here to help.' We can help people realize their full ability and potential and whether that is in Ninja Warrior, whether that is in weight loss, whether that is in OCR, this is what we love to do."
Don't get us wrong, as Dale says, there are fundamental skills necessary including balance, upper body control and grip strength. "Those are the functional fitness aspects needed, but we work to make sure each and every person gets the help they need no matter their skill level or ability," he says.
At LIVE, there's not only the Ninja Obstacle Training Open Gym but the Boot Camp classes that LIVE is known for, are held daily from 6 a.m. to nearly 6 p.m. And on Saturday's there's an Obstacle Course Racing (OCR) FIT class and a 2 p.m. Kids Ninja Warrior Class.
Another 941 location where one can train like a ninja is the EVO Athletics obstacle courses, from one for toddlers to teens to adults. For now, according to its website, 'Ninja Warrior Readiness' classes are available for kids 5 to 18, but 'Open Ninja training' is for everyone. Athletes can train with a coach in one of their classes or just come check it out during open ninja hours. For adults-only sessions, 18 and up, that's Mondays, Wednesdays and Fridays from 10 a.m. to 2 p.m. (Note: participants must be at least 5-feet tall.) For kids from age 7 to 17, open ninja time is Fridays from 7 to 9 p.m. and includes trampolines, foam pits and spring floors. And then there's the 'anyone' hours: Mondays from 6 to 8 p.m.; Thursdays from 7 to 8 p.m.; Friday from 5 to 7 p.m. and Saturdays from 10 a.m. to 12 noon.
The ninja classes at EVO focus on agility, hand eye coordination, trampoline exercises, and body awareness. The class includes instructional trampoline time as well as agility obstacle training.
For more information on how to train like a ninja, visit EvoAthletics.com or LiveTrainingFl.com.