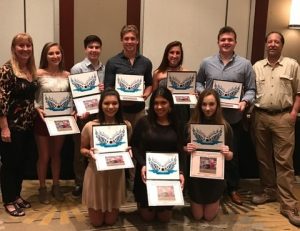 The Andrew Monroe Memorial Scholarship Fund annual 5K was held on January 8 and raised enough money to award $4000 in scholarships to nine recipients during the Riverview High School Soccer Awards ceremony Feb. 23, at the Hyatt Regency in Sarasota.
Following Monroe's tragic death in a 2011 car crash, the Monroe family set up the scholarship fund in his memory to assist RHS soccer athletes for a legacy of high education. An education he was unable to complete. To qualify, each applicant submitted an essay explaining how they emulate the traits and characteristics that defined Monroe. The recipients are:
Laura Orjuela, Giovanna Genta, Mackenzie Gaitens, Stacey Monroe, Joey Flanagan, Sean Mixon, Patrick Skladonowski, Abby Donnelly, Mika Kuschnitsky, Sam Monroe, Kaitlyn Burrell
For more information, visit AndrewMonroe.com.