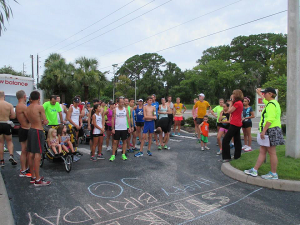 Whether you run, walk or jog, New Balance Sarasota is inviting everyone to its free 5K Fun Run. Designed to be fun and allow participants to test skills or just enjoy getting up and out by themselves or with family or friends, the runs are free and open to all ages and ability levels including runners and walkers. Part of a monthly Saturday morning Free Fun Run/Walk Series, the out-and-back loop course runs through neighborhoods over the South Bridge onto Siesta Key and back.
Team New Balance members check in and follow up with runners and walkers on the route. There will be raffles, free water and snacks, as well as bathrooms. The Fun Runs, which begin at 7 a.m., are held on the following Saturdays: April 15, May 6, June 3, July 1, August 5, September 2, October 14 and November 4.
New Balance Sarasota is located at 1872 Stickney Point Road, Sarasota. For more information, visit NewBalanceSarasota.com, click on Community and click on Local Races and Events, or call 941-921-3696 or email Events@NewBalanceSarasota.com.