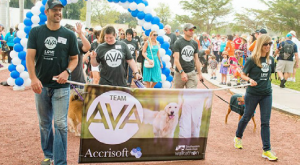 Sarasota Orthopedic Associates is a proud sponsor of the first Walkathon for the Southeastern Guide Dogs.
Since 1982, SEGD has matched visually impaired people with trained guide dogs in an effort to increase independence. And, service dogs provide confidence, comfort, and freedom to veterans living with post-traumatic stress disorder. The SEGD campus is located in Palmetto where dogs are bred, raised and trained. The guide dogs provide all services at no cost to both veterans and the visually impaired.
The SOA team for the Walkathon is the 'SOA Woof Pack.' Its goal is to raise $5,000 for SEGD. Donations are being gratefully accepted as well as team members. The Walkathon for the Southeastern Guide Dogs is slated for March 18 at Nathan Benderson Park, 5851 Nathan Benderson Circle in Sarasota.
For more information or to donate, please visit GuideDogsWalkathon.org/soa-woof-pack.