Benderson Lake Spring Break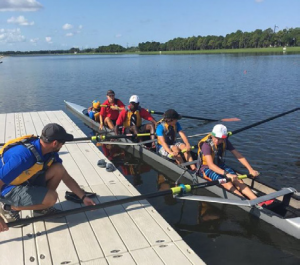 Kids Spring Break Camp, designed for kids 10 to 18, at Nathan Benderson includes a morning 'Learn to Row' course and for campers that stay a full day, in the afternoon, they learn about kayaking, stand-up paddle boarding, dragon-boating, boating safety education, RC sail-boating, and more. In specific, the rowing class is designed to not only acquaint campers to the sport of rowing, but to improve campers' health and wellness.
Two sessions are slated: March 13 through March 17 and March 20 through March 24. Campers may stay for a half day, a full day and there is also after-care available, albeit for an additional charge. Campers should bring a healthy snack and lunch (non-refrigerated), full water bottle, sunblock, hat, sandals with heel straps, and dress in layers.
Camp is held at Nathan Benderson Park, 5851 Nathan Benderson Circle in Sarasota.
For more information, visit NathanBendersonPark.org or contact the programs department via email at programs@sanca.us or call 941-358-7275.