Second annual UNAA Ninja Warrior at Live!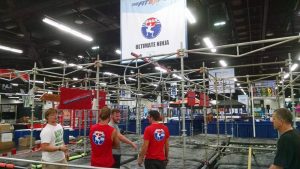 Live Training Center is hosting a multi-stage Ninja Warrior Competition on Jan. 28.
With a 3-stage format, the first two are UNAA qualifier. The event is governed by the UNAA rulebook, with the overall winner being decided by time and progress on the final stage.
Who Is Eligible? — any man or woman 18 and older can compete but we highly encourage all participants to become a member of the UNAA. A UNAA membership is required on the day of competition to advance to regionals.
Registration is $35 until Jan. 15 and $45 through Jan. 25. Sign in will start at 11am. The competition will start at 12pm. Participants can use some time to warm up on the obstacles before we begin the set up for Stage 1. There are only 60 slots available, so make sure to register soon to avoid being excluded. For spectator/participant info and registration go to UltimateNinja.net
Live Training Center is the training center for the American Ninja Warrior television show.
Live Training Center is located 1731 12th St. East, Palmetto. For more information, visit LiveTrainingFl.com.