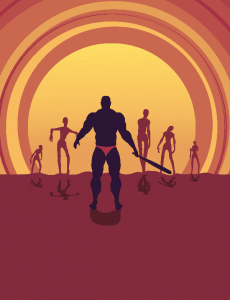 Maybe it's the zombie apocalypse or just woefully lost in the woods as the sun is setting, or maybe it's a perfectly civilized and well-planned hiking or camping trip, having the right survival gear – just in case – is a must. And some survival skills wouldn't hurt either.
"Be it a hurricane or when during an awesome wilderness adventure you take a wrong turn and find yourself lost, you'll be glad you were prepared," Environeers manager Brian Luther advises.
The longtime Sarasota-based camping, hiking and all-around everything-outdoor -store carries you-name-it gear to outfit a trip into the wilds. Depending on the geography, your list of must-haves may vary, but Brian suggests the following basics to survive in the elements: a compass; fire-starter (waterproof matches or similar); small, eight-by-eight foot or 10-by-10-foot, tarp for shelter (a tent would be ideal of course, but in the event there was no plan to spend the night in the woods…); 20 to 40-feet of P-cord (parachute cord); a solid knife and a way to sharpen it; three to five days' worth of dried foods; water and/or a water filtration device; a small survival handbook and notebook; first-aid kit; small handsaw or hatchet and pack in which to carry it; and a small pot with a lid.
Environeers also features outdoor hiking, camping and survival classes including orienteering and navigation, knot-tying, outdoor cooking and many more, some of which Brian says "can get pretty rugged."
Backpacking 101 begins with gear basics; from what you need for what kind of trip to learning how to correctly use that gear and then a weekend hike followed by a one-week trip. In Orienteering 1 and 2, Environeers most popular class, students learn to master the use of a compass for direction finding. "Once you're comfortable," Brian says, "we take it to the next level and go out on a moonless night-sky." So you have the right gear and the skills, let's hit the trail. Environeers sponsors rugged off-trail Florida trips "to get out and experience wild Florida." Trips include backpacking the Florida Trail, Myakka River State Park, and the Everglades where Brian says, "We spend the entire time in ankle to knee deep water and camping in hammocks."
A number of excursions are planned for the coming months, so you may have a chance to test out your survival plans and skills. Hopefully not, but just in case.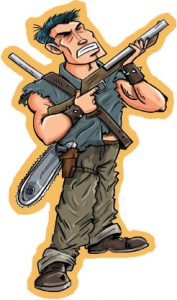 In February it's Cayo Costa State Park where trekkers will journey by boat to barrier islands and hike mangrove swamps and pine forests (and beaches, of course). March brings the aforementioned Everglades hike, a trip you certainly want to be prepared for, with a hammock a must. May brings a backroad trail hike deep in the Ocala National Forest on the Florida Trail and a five-day sojourn on the Appalachian Trail in Georgia. An August backpacking adventure in the Rocky Mountains, specifically several thousand feet toward the heavens at Maroon Bell-Snowmass Wilderness in Colorado where, Brian says, "With an elevation change of several thousand feet and in such a short distance traveled – 27 to 30 miles –, this trip will leave you breathless and from not just the altitude." A September voyage to hike the Dolomites, the lower Alps found in the mountainous region of northeastern Italy is planned for September. Hikers, donning helmets and attached by harnesses, hike the southern Alps on Via Ferrata, Italian for Iron Gate; basically a fixed protection climbing path.
Environeers, located at 5373 Fruitville Road, was purchased in 2104 by Sarasota natives Stan and Carter Tracht from founders and two-decade owners John and Ann Krotec. For more information, call 941.371.6208 or visit the store in person or online at Environeers.com.
Reopening soon, Trailwalker Gear is at once an outdoor gear store and location for trekking and camping courses, but it's also, as a veteran-owned and operated shop, committed to community though its support of veterans and area Boy and Girl Scouts.
Set to open at 4818 14th Street West in the Fountains Shopping Plaza, Trailwalker Gear carries everything from backpacks and beef jerky to ultralight tents and trekking poles. Trailwalker Gear also offers skills classes on how to make a fire, find water, set up shelter, navigate, use or create tools, prepare or forage for food, survive in inclement weather and more.
And, in preparation for a worst case scenario, TrailWalker Gear sells survival kits that range from a small one for a day or two stranded to enough supplies for a family of four for a year. One that has just about everything two people need to survive a week includes nearly 50 servings of emergency food and a duffle bag on wheels that is packed with a compass, nylon rope, Mylar sleeping bags, a two-person tube tent, water pouches, a Swiss Army knife, a compact multi-function shovel, survival whistle, water filtration bottle and water purification tablets, portable stove and stove fuel tablets, utensils, ponchos, hygiene kits, dust masks, hand and body warmers, first aid and bandage kits, light sticks, emergency candles, flashlight, waterproof matches, and a lot more.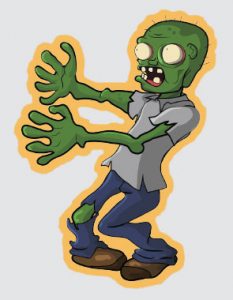 Visit @TrailwalkerGear on Facebook to sign-up for emails about re-opening, classes, trips and more or call 877-837-1106.
Not your average camping and outdoor supply store, Sarasota's Survive Anything prepares folks for anything. No really, anything including a zombie apocalypse, an alien invasion, or natural disasters like hurricanes and floods. Survival gear including food and medical supplies and weapons, as well as training classes and more are available.
Check them out at 2115 Siesta Drive, Sarasota, call 941-981- 0182 or visit SurviveAnythingFl.com.