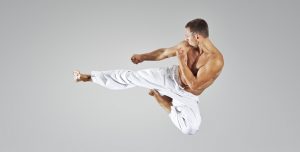 There are workouts and then there are literal ass-kicking workouts. Boxing, kick-boxing, mixed martial arts, and Kava Maga are some here in the 941 that are guaranteed to kick some butt.
Guillermo Gomez calls his process Martial Fusion® For Guillermo, who spent 30 years as an Aikido practitioner, the fusion he describes "incorporates the three key elements of any physical discipline training; cardiovascular, flexibility and strength," with "ancient practices and philosophies," into the modern gym: Martial Fusion®
Also known as the Cross Training Fitness Kickboxing system, "Martial Fusion® allows people to have a major calorie burn because of the cardio ingredients, like shadowboxing, a type of workout set around 145 to 150 bpm, which really makes it possible for you to burn anywhere between 800 and 1000 calories in one hour of training. It's a high-intensity workout," he explains.
"Next, we incorporate all the flexibility training, a key element, based on yoga stretches and positions for example," Guillermo says. "The purpose is to increase range of motion and provide for better alignment and prevent injury as you perform the martial arts techniques."
Guillermo says "core strength is that explosive power that you see in martial arts training."
"This allows you to channel that internal energy and express it through your physical technique and your mental attitude using breathing as the breach between the two," he says. "In Martial Fusion®, you holistically combine the three separate and equally important processes into one that helps one have a lifestyle of a modern healthy warrior."
Johnny 'Speed' Garcia grew up doing karate and got his first-degree black-belt while in high school. He then started boxing and kickboxing. Johnny recently returned from the World Martial Arts Games in South Africa, where he competed in five divisions and brought home three gold medals, something he calls the "experience of a lifetime." Johnny says "boxing or any martial art" is powerful workout.
"They are both awesome workouts regardless of skill level or experience because you work on doing your best, whatever level that might be," Johnny says. "It's an individual sport focusing on gradually developing skills at a consistent rate."
Johnny, who currently teaches his 'Fast and Furious Kickboxing Fitness' class at DeFit on Tuesdays and Thursdays, says boxing fitness classes are "designed to be high intensity workouts and a fun way to burn calories and relieve stress."
While not teaching, Johnny is preparing to compete in 2017.
"It will be a busy year of Pro Karate Tournaments and Pro Kickboxing/Muay Thai Fights around the country and the world," he says.
John Brockhoff, certified Instructor of Krav Maga Worldwide provides a workout with multiple benefits to his students' well-beings. Krav Maga, the official self-defense system of the Israeli Defense Forces, is a way to get in shape through an ass-kicking fitness experience, while learning skills to protect yourself, your family and to get home safe. We love that.
As the world's most functional self-defense program, Krav Maga is a great cardiovascular workout, helps to tone muscle and burn calories. It teaches students how to defend themselves and family members.
"Get in shape and go home safe," is not only John's motto but goal for participants. "Plus, anyone can do it," John says. Participants, who range in age from 18 to 67, go at their own pace. And while lots of fitness aficionados take the class for the added workout, some take it
just for self-defense and the 500-calorie burn is a bonus. According to John, "Krav Maga is designed to get people from 0 to 100 as quickly as possible."
John says with Krav Maga, students become "a lean mean fighting machine," achieve weight loss and improve cardiovascular ability. Krav Maga focuses on increasing fitness, strength, discipline, awareness, self-control and determination and is committed to keeping people healthy, fit and safe through the highest caliber of instruction, John says.
"Students come away with the confidence to know they can fight and not give up, or give in. It is a real win-win," he says, adding that unlike aerobic classes, "moves are not choreographed to music; we simply have powerful drills which push every aspect of your body; real fighting moves that demand a lot of energy. This is a full body workout."
Additionally, John offers The All Women Empowered (AWE) Self-Defense five session course. While not technically a workout class he says, participants are still "sweating and getting the heart rate up. For some it's very challenging. The biggest benefit is that it's a workout that provides lifetime and lifesaving skills. Participants of this course often refer to it as "life changing."
For more information about Martial Fusion®, visit MartialFusion.com or Facebook.com/MartialFusionFitness.
Please contact John Brockhoff at 941-545-8222 or email him at EliteTraining.JB@gmail.com for more information or to schedule your free trial Krav Maga class!
For more information about Johnny 'Speed' Garcia check out his Facebook/ JSpeedFight or email him at Johnny-SpeedGarcia@gmail.com.