Tune up for Music Half Marathon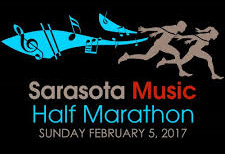 The 13.1 mile moving party with 4,000 of your friends will kick off Sunday Feb. 5 at 6:30 a.m.
Along the route through Selby Botanical Gardens, St. Armand's Circle, and over the Ringling Bridge you'll pass live music more than 40 times played by 20-plus bands.
Run Gourmet post-race brunch is provided by Mattison's Bayside, enjoy the Selby Gardens Spectator Zone, the 'beer mile,' and of course the Girl Scout Cookie™ Aid Station will be on hand. The after-party will feature live music, massages, beer garden and more.
Register at EventBrite.com.