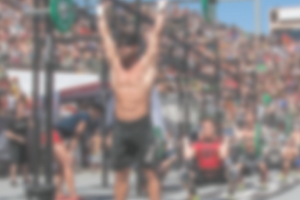 Boxtribe Games: The People's Competition
Described as the "People's Competition," the BoxTribe Games slated for Feb. 11 and 12 at Feld Entertainment Studios in Palmetto promises to be unlike any you've seen before.
"The unique thing about this particular event is that it is focused on the everyday athlete. This one is about the people. That's the theme," says Jerson Daganzo founder and owner of BoxTribe and BoxTribe Games.
"It is all about the fitness journey we take each and every day and promoting that fitness is important on a competition floor as well as it is to our every day activities," he says.
The BoxTribe Games in Manatee County is a singular competition; a two-day, three-event competition designed to allow everyday athletes to have "their turn to be in the spotlight … on the big stage."
The BoxTribe Games, the "People's Competition" was "inspired by a community of driven individuals that uses fitness to take their physical and mental limits to the next level."
BoxTribe prides itself on being the "Premier Performance Agency in fitness."
"Our company has been part of hundreds of fitness events globally, providing mentorship and consulting tools to help event coordinators run great fitness festivals. We are proud to finally present to you an event that won't be compared to any other, one where we have mixed the best elements from our experience to create something special just for you," the BoxTribe Games site reads.
"This has been a great journey in regards to us trying to make sure it is about the people," Jerson says. "This 1 ½ year relationship that I have been building has allowed us to create the biggest indoor production competition in the U.S, so it's bringing all the competitors strengths and weaknesses and making sure we generate something that is for the people, for the everyday functional athlete."
And Jerson says BoxTribe hopes these games will "lead to a series of competitions linked together."
"So what we are trying to do is get to a point where people are permitted to attend these competitions throughout the whole year starting with the BoxTribe Games," Jerson says.
The BoxTribe Games will be held at Feld Entertainment at 800 Feld Way in Palmetto on Feb. 11 and 12. Saturday Feb. 11 will feature the two-person team competition. The divisions for the Tribal Initiation are: Beginners; Scaled; RX; Masters; and Teens. Sunday Feb. 12 will be the Kinetik Collective Affiliate Invitational, a four-person team (two males and two females)
competition which will highlight all the affiliates in the community. A USAW sanctioned Olympic Weightlifting meet will also be taking place throughout the whole weekend.
"If you have never competed in the past but you love our sport, this is the competition for you," BoxTribe says. "Stop watching other athletes compete and allow yourself to experience what it feels like to be an athlete on the big stage. Don't let all your hard work be unnoticed."
BoxTribe is a company that specializes in providing software and consulting services for the functional fitness industry. Established in 2013 in Central Florida, BoxTribe is a company dedicated to providing Elite Event Management services for the fitness community, from a small venue fitness competition to an Olympic meet, BoxTribe provides registration, scoring, marketing, social media and apparel. BoxTribe says it has a "healthy toolbox of tools and guidelines that can help execute a very successful event. All services provided are built based on a solid foundation of real competition experiences from an athletes as well as a spectator's point of view."
To register for the BoxTribe Games visit BoxTribeGames.com. For more information about BoxTribe visit BoxTribe.com or email support@boxtribe.com. To learn more about the Games visit BoxTribeGames.com and follow the Games on social media; @BoxTribeGames on Instagram and BoxTribeGames on Facebook.