Battle of the Boxes Bradenton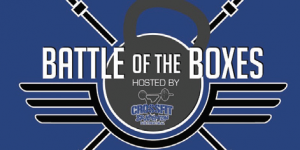 The Battle of the Boxes is set for Jan. 28, 2017 from 8 a.m. until 4 p.m. at CrossFit Bradenton, located at 3210 59th Ave., East in Bradenton. This is the third annual one-day competition for Manatee County CrossFit affiliates; indeed, all competitors must be members of a Manatee County CrossFit affiliate to enter.
Each box will be allowed up to six male and six female individual athletes as well as one team comprised of six; three male and three female. The individual divisions are Masters over 40, Scaled, and RX. Athletes may not compete in both Individual and Team. Registration is $30 per athlete and $180 per team. Tickets are available on EventBrite.com; search Manatee County Battle of the Boxes 2017.
Each athlete will earn points through placement in the workout toward their box's total score. Team placements are worth double points toward their box's total score. The box with the most points at the end of the event will be the champion.
For more information, contact CrossFit Bradenton at 941-405-0023, visit the website at CrossFitBradenton.com or follow the Bradenton box on Facebook @CrossFitBradenton.