The Ultimate Workout Playlist? You Tell Us!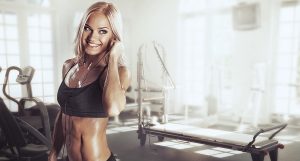 We are really into science, so going to Five-Thirty-Eight to see its best workout playlist made a lot of sense: its method was to gather data from streaming music services to gather songs that were searched for using the key word workout. Makes sense. We'll get to that in a minute, but local trainers shared their go-to jams to power your workout.
ADAM JACO, JACO BOXING
1. Rob Zombie – More Human Than Human
2. Motley Crue – Kickstart My Heart
3. AC/DC – Hells Bells
4. Guns N' Roses – Paradise City
5. Notorious B.I.G. – Hypnotize
KAREN BRUGGEMAN, AROUND THE CLOCK FITNESS SARASOTA
1. Scooter – Nessaja
2. Kiesza – Hideaway
3. Chris Brown – Beautiful People' (Ultimate High Club Remix)
4. Jack U (Feat. Kiesza) – Take You There'
5. Static X – Push It
6. Fallout Boy – Beat It
7. Ed Sheeran – Sing
8. Rob Zombie – Never Gonna Stop
9. Ultrasonic – 1, 2, 3, 4
FIVE-THIRTY-EIGHT.COM ULTIMATE PLAYLIST
FiveThirtyEight does the math. Literally. Nobody does Internet data better. Scanning Spotify data these geniuses (for real) calculate that the following 10 songs are the ultimate playlist" because of the number of appearances on Spotify for workouts. What's your ultimate workout playlists? Tell us on our Facebook page!
ULTIMATE PLAYLIST?
1. Desiigner  – Panda
2. Eminem – Till I
3. Drake – One Dance
4. Drake – Jumpman
5. Kanye West – Power
6. Eminem – Lose Yourself
7. The Chainsmokers – Don't Let Me Down
8. Rihanna – Work
9. (Seeb Remix) Mike Posner – I Took A Pill In Ibiza
10. Calvin Harris – This Is What You Came For
Sources: FiveThirtyEight.com & Spotify