The CANDance-ing Queen of Giving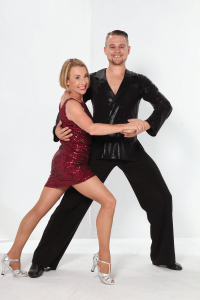 Alix Redmond was the top fundraiser of the night, a night that brought in some $200,000 for the Community AIDS Network (CAN).
For more than a quarter century, CAN has been serving the needs of the HIV/AIDS community regionally. A private, not-for-profit organization, its Comprehensive Care Centers provide treatment, care and continual wellness of people living with HIV, Hepatitis C and sexually transmitted diseases and as of April 2016, owns and operates 23 medical clinics all over Florida.
The CANDance 'Dancing with the Stars' fundraiser was held in mid- October and featured six professional dancers working the floor with six area celebrities, the latter not professional dancers. The 17th annual event, which sells out every year, raised the most money it's ever raised during the event, organizers say. Alix, the ABC 7 news' health and medical reporter, may have helped take it over the top.
Diminutive in stature but a powerful force, Alix is no stranger to giving back to her community and to the causes she holds dear, like fighting for AIDS and HIV awareness, education and research funding.
And, Alix is also no stranger to fitness; she is a certified instructor. "I've been rehearsing my little toes off," Alix said just days before the event. "It's a very different athleticism than what I'm used to as a fitness instructor; this is a completely different way of moving for me." Alix, who has taught hip-hop dance but has no experience with ballroom dancing, is also a spin class instructor and an equestrian. Ballroom dancing, she says requires "a different strength; you're using a lot of core strength and a lot of balance."
Alix says the CANDance 'Dancing with the Stars' fundraiser was her "first time dancing for a cause, but not my first time being active for a cause."
"And it wasn't my first time completely committing to an AIDS/HIV charity," she says. Alix did the 'City of Hope's Workout for Hope,' in the 1990s, which benefitted City of Hope National Medical Center and its Alpha Clinic which is "dedicated to the rapid research and development of stem cell-based therapies for cancer, HIV/AIDS and other diseases."
Alix was the 'Workout for Hope' New York regional chair team leader. Out of the 60 competing U.S. cities in 'Workout for Hope,' Alix's team was the number one fundraiser.
"We brought in more than $275, 000," she says, adding that fundraising for AIDS/HIV-related charitable organizations is "near and dear to my heart. I have lost more friends (to AIDS) than I can count on my fingers and toes."