Lace Up & Leash-Up for Doggies 4 Duchenne!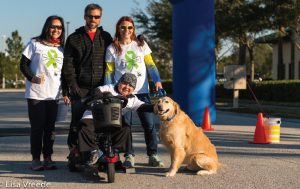 Grayson is 13 now; his family, friends, anyone who has ever met him, and many that never have, pray he lives a long life. Gray's best four-legged friend Hooch certainly does. So make sure you (and your dog!) are in Lakewood Ranch on Sat. Feb. 11, 2017 on what will likely be a Florida-cool and crisp morning. That day hundreds of two and four-legged runners and walkers, will lace, and leash, up for the 'Doggies 4 Duchenne' 5K run (or 1-mile walk) fundraiser.
The second annual race raises money to help find a cure for Duchenne, the disease that may claim young Grayson's life, as well as for the Humane Society at Lakewood Ranch. It's a great partnership because Grayson was recently paired with a service dog, Hooch, who is not only a now-beloved companion, but helps Grayson navigate the world a little better.
Grayson hopes people will come out again for what he says is the, "Best race ever to save me and my furry friends."
Grayson's mother Jennifer Tullio, who began the 'Another Day for Gray,' foundation to help educate and advocate for Duchenne research and finding a cure, says "Grayson's first love is his service dog Hooch, but his heart and spirit shines around any furry, four-legged animal."
Duchenne muscular dystrophy is a fatal genetic disorder diagnosed in boys and results in progressive loss of strength and muscle weakness which leads to serious medical problems, particularly issues relating to the heart and lungs. Young men with Duchenne typically live into their late 20s. There is no cure. Yet. "And it goes without saying that finding a cure for Duchenne will ultimately save Grayson's heart," Jennifer says.
Doggies 4 Duchenne was created by best friends Rebekah Boos and Monika Oberer, both runners; one with a passion for helping animals and the other a devotion to helping fight Duchenne.
"For me personally, I'm a huge animal rights person," says Rebekah who is a Humane Society at Lakewood Ranch board member, vegetarian and frequent animal rescuer. Rebekah says she and friend Monika first met while training for a race and became fast friends. And the more they got to know each other, the more they discovered their respective devotion to charitable causes.
"Animals are my passion and 'Another Day for Gray,' is Monika's. It's so essential we find a cure soon," Rebekah says. "We thought, 'why not just put the two together,' especially (since) Grayson loves animals and has his service dog. It's always been a dream to organize a 5k for animals and Monika is a go-getter, so she was the right person to partner with. It's just been so great, such a great synergy."
Monika says she and Rebekah founded Doggies 4 Duchenne, "Because we love dogs and we love Grayson and we want to give back to the community."
Jennifer agrees: "Doggies 4 Duchenne couldn't be a better marriage if you tried. Monika and Rebekah have put together an amazing event that promises to be fun, family-and petfriendly all while making a difference."
Monika says it felt "amazing" to be able to present $4,000 checks to both the humane society and the foundation for Grayson.
"My heart warms up giving back to the Humane Society at Lakewood Ranch and to my buddy Grayson, he has a special spot in my heart, and the dogs, too."
Monika is quick to add that while she and Rebekah founded the event, there would be no Doggies 4 Duchenne without help.
"We are so grateful for all the support and all the sponsors. Something as amazing as this doesn't happen without a lot of people helping and sponsoring," she says. Like CrossFit Lakewood Ranch, which hosts Doggies 4 Duchenne and many, many more, all of whom can be found on the Doggies 4 Duchenne Facebook page, Monika adds.
At the 2016 event, where more than 200 people and canines participated, over $8,000 was raised and split evenly between both 'Another Day for Gray' and the Humane Society at Lakewood Ranch.
Duchenne can be passed from parent to child, but approximately 35 percent of cases occur because of a random spontaneous mutation. In other words, it can affect anyone. Although there are medical treatments that may help slow its progression, there is currently no cure for Duchenne.
If you can't make the February 2017 race, you can donate on the same site where on registers for the race: RunSignUp.com. And make sure to 'Like' Doggies 4 Duchenne Facebook page for updates and all the details at Facebook/Doggies4Duchenne. And don't forget the Humane Society at Lakewood Ranch's, too, at Facebook/Humane-Society-at-Lakewood-Ranch.
What:
Doggies 4 Duchenne 5K Run and Walk, Humans and Canines!
Where:
CrossFit Lakewood Ranch, 5261 Paylor Lane, Lakewood Ranch
When:
Saturday Feb. 11, 2017 7 AM-10 AM
Register:
RunSignUp.com/Race/FL/Sarasota/Doggies4Duchenne