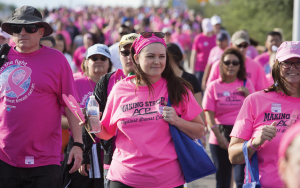 It's that time of the year and we believe at Fit941 it's true that to give is better than to receive. It just feels better. In our communities, people are generous and giving generally, but in the fitness community, the generosity knows few bounds, so we're taking a look at the many ways that Fitness Gives Back, keeping in mind that this is by no means a complete look at all the ways folks get fit while giving back in the 941, but from walks, runs, marathons, triathlons and other multisport events, to events held in local gyms like burpee challenges and Zumba- thons, or gyms that donate portions of member fees to charity or hold silent auctions as charity fundraisers, fitness is about getting and giving; getting healthy while giving back. Talk about win-win.
The Big Ones (Walks) The October 2016 Making Strides of Sarasota-Manatee Walk had more than 1,700 participants in 240 teams raise more than $200,000. "The Walk is one day in October. The fight is every day before and after." Visit MakingStrides. AcsEvents.org for details.
Before the ice bucket challenges of a couple of years ago, most people knew amyotrophic lateral sclerosis as Lou Gehrig's disease. ALS is a progressive neurodegenerative disease that affects nerve cells in the brain and the spinal cord. The Sarasota 2017 ALS Walk is slated for March 4 in Phillippi Estates. Walkers raised more than $50,000 in 2016, so it's a big event and helps bring much needed research funding dollars. If you're looking to lace up for ALS, visit alsa.org for more information on how to participate.
Walks to End Alzheimer in both Sarasota and Manatee counties held in November raise tens of thousands of dollars every year. The Manatee County walk exceeded its goal in its October walk raising nearly $65,000. At press time, the Sarasota walk at Nathan Benderson Park was on target to raise its $150,000 goal. Visit Act.Alz.org for more information.
March of Dimes' March for Babies of Manasota-Englewood is held annually and raises tens of thousands of dollars. The walk supports programs that help moms have healthy, full-term pregnancies, and funding research to find causes and preventions. The 2017 walk is set for April 29, 2017. Visit MarchForBabies.org to learn more.
The JDRF (Juvenile Diabetes Research Foundation) One Walk is the "flagship fundraising event draws more than 900,000 people who raise money for type 1 diabetes (T1D) research each year," according to the JDRF One Walk site. The April 2017 Lakewood Ranch JDRF Walk has a fundraising goal of around $216,000. To learn more, visit Jdrf.org.
The 2016 Suncoast Heart Walk held at Nathan Benderson Park in September raised more than $230,000. The Heart Walk is the American Heart Association's "premiere event for raising funds to save lives from this country's No. 1 and No. 5 killers – heart disease and stroke. Designed to promote physical activity and heart-healthy living, the Heart Walk creates an environment that's fun and rewarding for the entire family." Learn more at HeartWalk.org.
The MS Walk in Sarasota last March exceeded its goal, too raising more than $57,000. According to the MS website, the goal of the annual walk held nationwide is to "end multiple sclerosis forever." Visit NationalMsSociety.org for more information.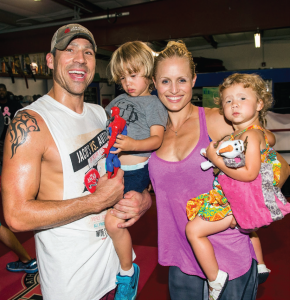 A walk not often heard about is the American Foundation for Suicide Prevention 'Out of the Darkness' Walk. Held on Siesta Key Beach in October, the walk exceeded its goal and raised more than $40,000 to help "save lives and bring hope to those affected by suicide." AFSP helps fund research, raise awareness about mood disorders and suicide prevention as well as promote policies and legislation that impact suicide and prevention. Visit Afsp.org for more information.
Big Ones (runs)
The Active Suncoast Foundation, a community-focused non-profit, features races and marathons that are designed to "encourage physical activity, physical fitness, and healthy diet." Fitter people are healthier people. Among the myriad activities the foundation sponsors and support include its very own Sharks Tooth 10k, Frosty 5k and Suncoast Half-Marathon. The Active Suncoast Foundation's events have raised $65,000, according to its website, and all that money remains in Manatee and Sarasota counties. Frosty 5K will be Saturday, December 17, the 8th annual Shark's Tooth 10K will be on Saturday, March 4, 2017. The Suncoast Half Marathon slated for January of 2017 has been placed on "hiatus" because of "road closure requirements along the course." To learn more visit ActiveSuncoast.org.
Achieva Run for Good Foundation has raised some $250,000 for area schools with its annual Sarasota Run for Good, slated for Jan. 28, 2017, Payne Park in Sarasota. Achieva says on its website that one of its core principles is to do the right thing: "As a credit union, that means volunteering and giving back to our local communities have raised over $255,000 to benefit local schools."
ALSO Youth's 7th annual Turkey Trot 5K slated for Thanksgiving morning is a beautiful way to help support ALSO's mission to provide Advocacy, Leadership, Support, and Outreach (ALSO) to LGBTQIA youth and their allies and ensure "all persons live their lives with dignity, honesty, and pride, regardless of their real or perceived sexual orientation or gender identity." The 5K has raised thousands for the ALSO mission. Learn more at AlsoYouth.org.
Altruistic Local Gyms
Jacos Vs. Autism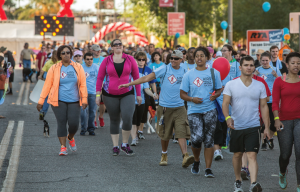 In April 2017, the bell will ring on the 4th annual Jacos vs. Autism, 24-hour boxing marathon to both help fight, and raise awareness, about autism. All the proceeds from the event, which last year raised more than $50,000, go to Sarasota's ABA Academy, a nonprofit that works to help develop the full potential of students with Autism Spectrum Disorders and other disabilities. Kelli Jaco, co-owner with husband Adam, of Jaco's Boxing, says the Jacos vs. Autism event is one part festival with games for kids, music, food, drink, auction and fun and one part non-stop boxing. Last year nearly 1,000 people showed their support. "Adam and I, along with our event co-chair Amy Tanaka, are so honored to host each year and look forward to our 2017 event."Kelli said. Since the inaugural Jacos Vs. Autism event, they have raised more than $110,000 ($20,000 in 2014, $40,000 in 2015, and $52,000 in 2016) for the ABA Academy. Kelli and Adam says their collective "hearts are full of gratitude" for the ABA Academy and are "honored" to be able to help and give back.
The April 2016 24-hour event had some participants buying a 30-minute private training session for $100 and non-stop amateur fights and, as if they had any energy left, Kelli says she and Amy did a "burpee challenge" where over the course of the 24 hours, did a burpee for every donated dollar: "We passed 4,800 this year."
To be involved, show support, or get in the ring for an awesome cause, contact Kelli Jaco at 941-586-2355 or email her at kellijaco@gmail.com.
Orange Theory Helps Educate Haitian Kids
At Orange Theory's August Dri-Tri, a timed and competitive event where participants row 2000 meters, perform 300 reps of body weight exercises and finish with a 5K (3.1 mile) run, nearly $1,000 was raised to help children in Haiti attend school.
"That we were able to donate that money to Love & Grace ministries and tell nine more kids in Haiti that they could go to school this year, that was a big deal for them," says Heather Flanagan, regional manager and coach for the Sarasota OTF locations.
Orange Theory also helps to raise funds for breast cancer awareness and research. In October, Sarasota OTF studios designated a day where they donated $5 for every member that came in to work out to go to breast cancer awareness. At press time, OTF Sarasota had raised more than $1,000 for breast cancer research.
"We have great challenges and events all year long at Orange Theory Fitness where we donate monies raised for great causes," Heather says. "This is what it is all about, giving back." To support OTF charitable giving, email Heather at Heather.OtfSarasota@gmail.com.
Zumba-thon for Breast Cancer Research
In October, A Better Fit A Better You held a four-hour Zumba-thon to raise awareness and money for breast cancer research. Instructors, including 'That's Dancing' teachers, led the Zumba-thon which also featured vendors providing massages and skin analysis. More than $500 was raised, says owner Beth Ann Savoy. For more information visit ABetterFitABetterYouFitnessStudio.com.