Doing Something Different at GymSRQ Fitness & Fuel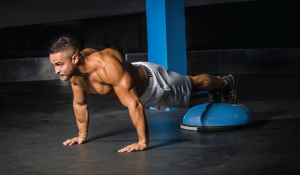 Bryan Lieberman, co-owner of GYM SRQ Fitness & Fuel, slated to open this month, says the experience at Sarasota's newest gym will be an unparalleled one.
"We are taking advantage of a lot of the technology out there now. The cryotherapy is a big one. We have the first cryotherapy sauna in South Sarasota and everybody is pretty excited about that," he says. "The beautiful thing is it's not torture; you're in there for 30 seconds to three minutes, tops.
We've had a lot of people sign up excited about being able to use the cryotherapy sauna."
But it's not just the very cool cryotherapy chamber that's different.
GYM SRQ will also feature 3D body scanning, a 13,000 square foot facility with state-of-the-art equipment, a power rig athletic area, group and personal training and member discounts.
Bryan has more than 25 years of experience in the fitness field. It is his passion. When he moved to Sarasota more than 12 years ago, he helped transform the face of fitness here beginning with his work as a personal trainer at then- Lifestyle Family Fitness, later an LA Fitness franchise.
After LA Fitness, Bryan and his wife, partner and fellow personal training director Sohni took Crunch to new heights, he says, "playing a large role into developing the Sarasota location into the most successful club and personal training department of all Crunch franchises nationally."
Following that success, Bryan decided to go in a different direction and pursue a locally-owned club not bound by franchise or corporate policies, which hamper innovation, he says, and the idea of GYM SRQ was born.
"We feel there's a huge void in the fitness industry at the moment meaning service and really paying attention to what clients want and need. And, what employees want and need. Everyone knows the problem in this industry is retention; it's hard to keep members year to year only 30 percent will stay and as far as trainers go, only 12 percent will stay from year to year. There's a lot of turnover in the industry. We consider turnover failure," Bryan says. "It seems like, especially the big companies, they just kind of build turnover into their business plan. If a company was only keeping 30 percent of the customers year to year that would be considered utter failure. But
for whatever reason, in this industry, it's considered the norm.
We want to change that. We want to make an impact."
And with GYM SRQ, he believes they will.
"So since we all have been in the industry for so long, we wanted to accomplish a few things: create a place that is a career path for the professionals; to eliminate that turnover, to compensate them properly for their work and cross-train all employees – eliminate departmental divisions and have one team that is cross-trained. Our trainers are not only crosstrained each is nationally accredited and certified. Everybody in the building is educated to training members, assisting members, touring members, and signing-up members," Bryan says. "So that's one thing we're doing different than just about everybody else."
Different by taking its mission even further, he says. Welcome RENEW SRQ, a partner health café and wellness center located next to the gym at Beneva Village Shoppes. Slated to open in late December/early January, RENEW SRQ, which aims to "improve the life of your body," will provide sports nutrition, fresh-pressed juices, organic smoothies, meal prep services, dietary supplements, Rx weight loss, as well as massage therapy, hormone therapy, botox injections, even ant-aging stem cells.
Bryan's wife and GYM SRQ co-owner Sohni, a former collegiate volleyball athlete, earned a Bachelor's degree in management, is a certified personal trainer, and certified assisted stretching expert.
Another co-owner, Drew Adkison is a certified personal trainer and sports nutritionist, with decades of experience including gym operations in Florida and Georgia.
Former tennis pro Vamsee Chappidi is GYM SRQ's sole investor and CEO. Chappidi is a co-owner of the Sarasota Tennis Open and owns a number of other successful Sarasota businesses.
For more information about GYM SRQ, RENEW SRQ, specials, opening dates, and a lot more, visit GymSRQ on Facebook, call 941-FITNESS or check out the website at GymSRQ.com.