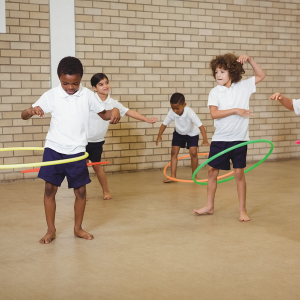 A lot is going on at the beginning of the school year. The transition from summer isn't always easy. For starters, readjusting schedules has likely been a chore since kids often stay up later and sleep in during summer.
And there's the transition back to academia in general. Researchers and educators have known for decades that kids forget a lot of what they've learned during the summer. In fact, research shows they score lower on standardized tests following summer break then they scored before their holiday.
One way to overcome this is to power up the brain with exercise. Fit.WebMD.com says any exercise that gets kids hearts pumping and makes them sweat, basically anything aerobic, is the kind of workout that helps power the brain by supplying blood and oxygen and helps the body create natural chemicals that help brain cell growth.
So bottom line, kids who exercise are more likely to stay focused in school and perform better academically.
Elementary educator and certified youth fitness coach Dani Williams says it's important to get kids motivated.
Williams, who in addition to being a certified elementary special education teacher is an International Sports Science Association-certified youth fitness coach and international Kidding Around Yoga-certified kid's yoga instructor, is the owner of Next Generation Fitness and Wellness. For many in the 941, Williams is the face of youth fitness. And she says that even though kids have played all summer long, back to school fitness is important.
"According to Active Living Research, there is a significant amount of growing evidence that states participation in physical fitness leads towards better brain health, enhanced concentration, as well as increased academic performance in the immediate and for long term," she says. "Kids deserve to be given ample opportunities to set themselves up for success. In my eyes, the more exercise, the better."
Williams says there are a number of options for families in preparing kids for a great school year.
"It all depends on the goals that are set by the child and parent. Every child is wired differently, therefore, may need varying avenues for success," she says. "Each program offers distinct benefits. For example, a group class may offer a structured and upbeat team-based environment, whereas a one-on-one session may concentrate more on fundamental skills, emotional development, and mindset."
Williams says that, as an educator, she believes it is necessary to be fully aware of each individual's strengths, capabilities, and what path(s) they need to take in order to become their most successful self.
All kids have different learning styles, motivations, goals, obstacles, and fears. When working with kids in a fitness program, looking at the whole child is the most appropriate measure, Williams says.
Next Generation is the expanded and evolved Kids in Motion Fitness and Wellness program with a mission of a "Fit and Focused Future." Williams works with young people to help them achieve good health through regular physical exercise as well as a more disciplined focus where kids are better able to concentrate and pay attention, an essential ingredient for a successful academic future.