Heart Pumping, Frightfully Fun Halloween Runs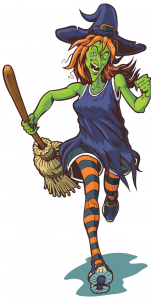 The ancients Celts celebrated the end of harvest season with a festival then called Samhain, now known as Halloween. They used the festival, in part, to "take stock and prepare for winter." Sounds like a good time to prepare the body for winter, too (although in the 941 we can hardly claim to have to hunker down when our average temps are in the 60s and 70s, but anyway…), by taking, as the Irish might call it, a 'good stretch of the legs' and in costume, no less, to scare off those Samhain spirts.
In the 941, there are a number of Halloween-themed races, runs and fitness events, for young and old, ghosts and goblins …and zombies.
5K Zombie Run, Saturday, October 15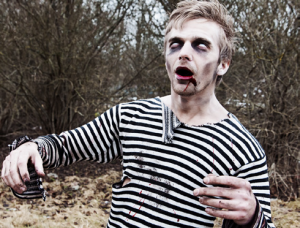 5K Zombie Run, Saturday, October 15Run for your life from the 'undead' at the 5K Zombie Run at Nathan Benderson Park on Oct. 15 in the broad daylight where runners can try and out run or outwit zombies coming at them. This race allows folks to be runners, humans running from zombies or zombies pulling runner's flags as they run through runner's' 'Zombie Zone.'
Runners wear three flags on a belt and must protect them as the flags are their 'life.' Zombies are staged throughout the course ready to chase and steal the flags. Runners try to survive the zombie apocalypse, though if runners lose their flags they can still finish the course as a runner. Safe zones will be posted at mile markers 1 and 2 where runners can grab water and extra flags. Runners should be prepared for zombie walkers, runners, crawlers… and some surprises.
Zombie Horde members can "polish human hunting skills while adorned in true flesh-eating fashion, compliments of the event's expert make-up team, followed by a visit to the Blood Splatter zone.
All participants receive a t-shirt, finisher medal, tattoo and entry to the post-race apocalypse party complete with music, food, great vendors and a fun family atmosphere.
This is a fun run; the course is not a certified 5K and is not officially timed, distance is approximated based on terrain and accessibility and the course is a little longer than 5K. It is 3.5 miles instead of 3.1 miles/5 kilometers.
For all the details including registration, fees, volunteer opportunities, and lots more visit The5kZombieRun.com and choose location Sarasota.
Ye Old Main Street 5K Ghost Run, Saturday, October 22

The 5K Ghost Run set for Oct. 22 is a costumed, chip-timed run through downtown Bradenton and along the Riverwalk. Strollers with little ghosts are welcomed. There are also one-mile fitness walks and Kid's Dashes in four heats. All children will receive finisher's medals and trophies are awarded for top finishers. Children under 12 who are registered for the 5K can run in the Kid's Dashes at no cost.
Five minutes after the 5K Ghost start, the 5K Ghost Doggie Run will travel the same course (no retractable leashes, please) with watering stations for the four-legged runners along the route.
An after-race party is slated and will feature costume contests for kids, dogs and adults. Food and refreshments from local venues will be available.
The race benefits the Mission of the Robinson Hearts and Minds Foundation to continue the work that Brent and Julia Robinson had begun to positively impact the lives of children and high school students and provides assistance to children with autism and their families as well as scholarships to aspiring engineers.
Register at Active.com
Boo-Run 5K, Saturday, October 29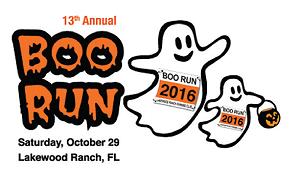 The Lakewood Ranch Runner's Club 13th annual Boo-Run 5K is a family-oriented race event that features costumed runners of all ages. The annual event is expected to attract more than 1,200 runners and spectators. Awards will be given out for Best Couple, Most Creative, Most Funny and Best Male/Female Kids under 10. Race day runners will receive bib with chip, goody bag and t-shirt. The race day schedule includes registration, chip pick-up, Boo-Dash kids' races with the 5K timed run beginning at 8:30. Awards are based on age group, masters, grand masters and senior grand masters.
Visit LakewoodRanchRunningClub.com for more information and register at active.com.
If you will be featuring a costume workout or other Halloween-related fitness event, let us know; email us at Info@Fit941.com. We will help promote it online.