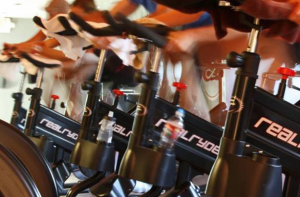 Tilt Cycle is Sarasota's newest indoor cycling studio. Owner David Banks has coached group fitness classes in the 941 for many years and is well known in the fitness community. With Tilt Cycle, Banks has realized his goal of creating an ideal indoor cycle boutique.
Banks has taken an already-popular industry and tilted it by employing an revolutionary approach. Tilt Cycle starts with environment and immersion; the room lights with vivid colors which are more than aesthetic, the light wall is part of the class experience and aids in instruction. by using the light wall, according to the Tilt Cycle website, "the class instructor is free of breath to explain form and moves without mentioning tension. This more immersive instruction gives the rider a better understanding of what to do in class. This is also very helpful for newer and first time riders, as there is less confusion."
Tilt Cycle boasts 21 state-of-the-art and dynamic indoor Real Ryder bikes. Tilt Cycle features three full private bathrooms with large showers, benches, chairs, and a lounge to relax or prepare for class.
And embracing technology, there's the Tilt Cycle app which can be found in any online app shop.
Tilt Cycle is located at 4804 South Tamiami Trail in Sarasota. Visit TiltCycleSarasota.com for more information.