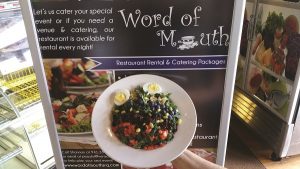 I chose my favorite salad from my menu at Word Of Mouth. The "superfood" salad is my favorite. I try to eat healthy, but at the same time, have been lifting heavy in the gym for years, and usually feel like a bear coming out of hibernation after a gym session.
This salad has everything I need. The vegetable benefits of this salad are obvious, but I also like the antioxidant properties of the ingredients as well. We serve this salad with a pomegranate dressing, but I like it better with our house made Balsamic vinaigrette. It also comes with a choice of fresh baked muffin, scone, croissant, or artisan bread. It has a high amount of "good" fats in it from the egg and guacamole. I need to eat as many "good" calories as I can, so I also tend to add a grilled chicken breast to it.
There's not much to fix about this salad. If I was looking for a strict clean food option, I might leave out the guacamole, the chicken, and possibly the egg. I would certainly trade the muffin for the rustic 9 grain artisan bread, which is also gluten free.
It just depends how far you want to go…
Ingredients
Chopped Kale
Edamame
Blueberries
Almond Slivers
Dried Cranberries
Tomatoes
Hard Boiled Egg
Side of Guacamole
By Shannon Lugannani, Proprietor Word of Mouth Downtown, Restaurant & Catering
941-365-1800
WordOfMouthSRQ.com
Word Of Mouth Downtown on Facebook