September 15, 2016
|
Train
Def: Fit Expanding So You Don't Have To

Definition Fit, the downtown Sarasota fitness fixture, is expanding both its space and its client's options. Still located at 1471 5th St., Def Fit is increasing its footprint, virtually doubling its size, enabling the gym to expand its current offering and variety of classes, increase personal training space, separate and apart from group classes, which means space for several new trainers and "lots of new clients."
And as if that wasn't enough, Def Fit is adding a plethora of new, functional training and athletic training equipment including the Isophit, the this-changes-everything cutting-edge, carefully-researched and developed exercise system that its creators say works more than 650 muscles by "harnessing scientifically proven benefits of Isometric strength training in a way that's never been done before."
Def Fit co-owners Daemian Mains and David Weiner say the Isophit, which is unique to Sarasota, uses principles of isometric training and can be used alongside the trademarked Muscle Activation Techniques (MAT) system performed by certified specialists.
According to Weiner and Mains, "MAT and Isophit work hand in hand to prevent injury, increase muscle contractibility and strength, and help remove limitations an individual might be experiencing in their respective athletic or exercise endeavors."
Weiner says the expansion, coupled with the state-of-the-art fitness technology, is making for an exciting time at Def Fit, which is soon to celebrate its seventh year.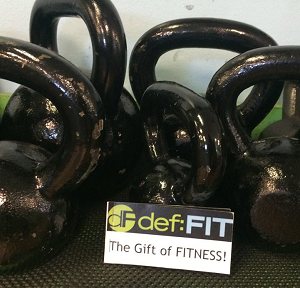 "I'm thrilled that Def Fit is introducing these groundbreaking strength and conditioning protocol to the Sarasota athletic community," Weiner says. "Young or old, weekend warrior or fitness addict, we all can benefit from having our muscles and bodies function at an optimal level. MAT and Isophit are incredibly effective tools to help us all bring our 'A' game."
And Mains, who has been the 'face of fitness' in Sarasota for years, says she's excited about the expansion and new offerings at her "second home."
"This gym has been getting bigger little by little, and our expertise has grown with it," Mains says. "With the addition of new equipment and new certifications, we will keep offering cutting edge training techniques built on solid foundations. I love each and every one of our clients and I am grateful for everything this gym has become. I look forward to the future with my Def Fit family."
Classes at Def Fit run the gamut including Total Body Conditioning, TRX Power, Athletic Performance Training, HIIT MIX, Extreme Circuit, and also offers Dani Williams' popular NXT Generation youth fitness program (Please see on story page 46). And now, with the Isophit and MAT, Def Fit is the absolute fitness authority in Sarasota.
Weiner, an Ironman triathlete, has always been an athlete; from half-marathons to tennis. And as a longtime personal trainer, his philosophy and style is based on helping clients achieve optimal performance and their full potential "no matter your starting point."
"There are multiple forces being applied to our bodies when we exercise or train. If there is an imbalance or weakness in our muscles, our bodies will compensate to complete the task at hand," Weiner says. "Compensation can lead to injury. I use MAT to identify those imbalances and create stability, and then reinforce that stability with the Isophit and dynamic exercise. If you have an opportunity to have your body functioning at an optimal level, why wouldn't you do it?"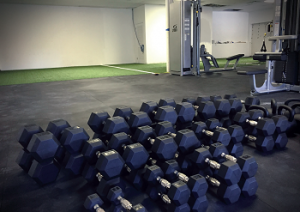 Mains, an AFAA certified personal and group trainer, has been in fitness for more than 20 years, from teaching cardio boxing at the YMCA to training for her second International Federation of Bodybuilding and Fitness (IFBB) competition this year. She started fitness training while earning her degree at University of Florida and she continued training at the Sarasota YMCA for several years after. And Mains has been a World Beauty and Fashion Fitness (WBFF) competitor three times and in her last show, she won 2nd place in the 35-plus category and 3rd place in the open category. She says she uses her experience to help clients "get in their best shape ever."
Located at 1489 5th St., in Downtown Sarasota, at Def Fit, the first class is always free for locals. For more information about Def Fit, call (941) 961-3271 or visit DefinitionFit.com.