September 12, 2016
|
pulse
Music Half Marathon Supports Non-Profits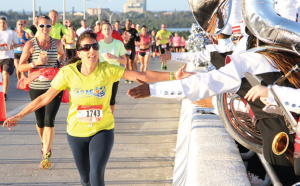 Since 2014, the Sarasota Music Half Marathon raised more than $57,000 for local non-profits. Organizers say many of the non-profits that work with the event are small and may not receive the attention larger organizations do. Local non-profits help staff the half marathon with volunteers who play myriad roles leading up to, during and after the event.
"That's what makes our non-profit engagement special," said Sarasota Music Half Marathon Event Director, Ryan McCarthy. "If we can help Tuttle Elementary afford a new playground or Mothers Helping Mothers pay its rent, that makes us feel like we are a part of the local community and the participants of the race should feel like they are a part of that as well."
For example, the Children's Healthy Pantry, which provides healthy snacks and water to 10 of the 16 Title I schools in Sarasota and Manatee Counties representing close to 900 children, used the donation they received to help 200 children for a month. They also received a large portion of the unused water from the event. The Riverview High School Papillon Club, a mentorship program for girls used their race donation to support scholarships to three outstanding student club members. And the Mark Wandall Foundation, which partners with nationally recognized youth bereavement camp Comfort Zone, used the donation it received to cover the costs for a grieving child at the three-day camp.
"We get excited about helping multiple local non-profits take the small steps toward achieving their goals each year, and therefore we strive to be the Race for Sarasota. I think that's what makes our event special, and the participants need to know they are a part of that mission," McCarthy says.
The 2017 Sarasota Music Half Marathon is set for Feb. 5 with an expected field of 4,000 participants.
For more information, visit SarasotaHalf.com.