September 12, 2016
|
pulse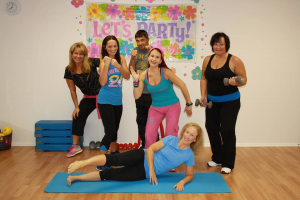 A Better Fit, A Better You celebrates its second anniversary Oct. 1 with a fitness celebration at its Cortez Road studio.
Owner and fitness instructor Beth Ann Survoy, who has been in the fitness industry for 23 years, says her studio is a "place to release stress, boost inner confidence, and participate in a healthy lifestyle. We are proud to have a positive studio environment where all are welcome. We aim to provide a safe, empowering and professional instructional environment and strive to foster an atmosphere of consideration, support and respect."
Survoy says the team at A Better Fit, A Better You is "committed to providing real life strategies and sharing our own journeys to help you achieve a healthy lifestyle" in an environment that is at once fun and uplifting.
"We are a very universal studio for all ages," says Survoy. "Our oldest, at 78, sometimes does classes twice a day. We have young people, young mothers and middle-age people, too. Our classes reflect that age diversity, too, from a Zen Zumba class for the slower, to the more intense Zumba class for the more vigorous. A saying in my studio is 'Good Vibes Only.' Come in with a smile, and you will always leave with a smile. Let's dance."
Speaking of dancing, Survoy's background is in dance she says with 17 years of dance training including with the Boston Ballet and the New York Rockettes.
A Better Fit, A Better You features myriad classes including Body Sculpting, Cardio Plus, Hot Fusion and Hot Hulu, Pilates, Yoga, and Zumba and, importantly, a program for youth called Kicks 4 Kids and for seniors, the Senior Sculpt class along with nationally recognized fitness program Silver Sneakers.
For more information about A Better Fit A Better You, visit the studio at 3661 Cortez Road, Ste. 200, in Bradenton, call 941-405-5880 or check out its website at ABetterFitABetterYouFitnessStudio.com.